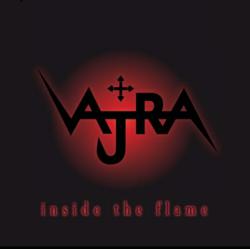 "Take a trip to India with Vajra. You want something new? This is it!" -Through The Sound Barrier
New York, New York (PRWEB) September 13, 2011
Make way for Vajra, the musical alter ego created by composer, singer and multi-instrumentalist, Annamaria Pinna, during her self-imposed exile in India. Vajra released single 'Inside the Flame' from the forthcoming debut album 'Pleroma'. "Inside the Flame" is a hauntingly dark and hypnotic track that immediately commands one's attention.
"Inside the Flame" weaves Eastern Indian themes with melodic progressive rock creating a foreboding and mysterious lullaby from one lover to another. The song is a metaphor for how to maintain one's identity when in love. "It's kind of Dr. Jekyll/Mr. Hyde from the point of view of a manipulative individual who entices another to fall in love and then strips her lover of his identity" says Annamaria.
The single starts with an unsettling low growl, which grows to a breathing guitar and melodic entrancing vocals. The verses are reminiscent of a soft siren "lulling" you in, yet Annamaria's tone hints at something darker beneath the surface. The music builds in intensity from a slow rhythmic tempo, to a formidable chorus with pummelling drums, a driving bass and intense guitars after which the music reaches a point of disjointed chaos and crashes to the ground. It starts again slowly with Annamaria's haunting whisper, building once more with an arpeggiated guitar and crescendos as Annamaria reveals the full range of her powerful voice.
"Inside the Flame" is an impressive debut from Vajra. The combined musical talents of Blake Fleming on drums (The Mars Volta), Doug Wright on bass (The Dirty Pearls), and Will Dahl on guitars (Harley's War) all serve to highlight Annamaria's powerful vocals and to create the intensity of the piece.
The forthcoming album, 'Pleroma' is slated for release in 2012. "Pleroma" is an exploration of paradoxes; east vs. west, soft vs. pummelling, female vs. male. The album includes appearances by drummer Blake Fleming from The Mars Volta, bass guitarist Doug Wright from The Dirty Pearls and guitarist Will Dahl from Harley's War as well as tabla master Turtle Jon. It was written and produced by Annamaria Pinna and recorded in Mumbai, NYC, and Weed, CA. Vocals were co-produced by multi-platinum, Grammy Award Winner, Sylvia Massy (Johnny Cash, Prince, Tool, System of a Down) and mixed by Rich Veltrop (Slayer, Tom Petty, Rage Against the Machine, Red Hot Chilli Peppers) at Radiostar Studios in Weed, CA. It was engineered by Matt Boynton (MGMT) at Vacation Island Recording, as well as Sylvia Massy and Ian Rickard at Radiostar Studios. It was mastered by Tom Baker (NIN, Prince, Foo Fighters, Ministry, etc) at Precision Audio in LA.
Vajra will begin touring in NYC this Fall.
"Inside The Flame" is available on iTunes here:
http://itunes.apple.com/us/album/inside-the-flame-single/id458093143
and "Pleroma" can be pre-ordered here:
http://vajratemple.bandcamp.com/
For more info about Vajra, please go to the following pages at: https://www.facebook.com/vajratemple
http://www.reverbnation.com/vajra
http://www.twitter.com/vajratemple
http://www.myspace.com/vajratemple
For more information:
Angela Blando
Vajra Temple
(845) 430-6283
vajratemple(at)gmail(dot)com
###