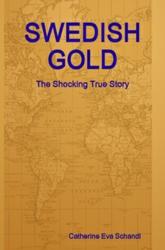 Toronto (PRWEB) September 12, 2011
In this third book in the trilogy about MI6 in World War II Budapest, the true secret of the missing Swedish Gold is revealed, and the shocking fates of the British agents connected to it. One (a Dutch officer) worked for Swedish diplomat Raoul Wallenberg, another (a missing English airman) became a source of interest to "The News of The World," while others' names lay hidden in clandestine British documents for decades.
The head agent of British intelligence in World War II Budapest was a young Hungarian lawyer. His real name was Gabriel Szeleveny Haraszthy (or Gabor Haraszti/Haraszty). His code name was ALBERT. In 1940, he became an agent of His Majesty's Secret Intelligence Service (SIS). ALBERT was not only the head agent of SIS (MI6) in Nazi-occupied Budapest, he was also the man in charge of the mysterious Swedish Gold. He was believed to have been killed by the Soviets at the end of the war, but resurfaced decades later, to tell his secret to one person only - the author of this book, who is also the daughter of Karoly Schandl, his "best undercover man."
More information about this true story can be found at the book's website.
http://swordoftheturul.com/book3.html
"Swedish Gold" is currently available at Lulu Books in download or printed book form.
http://www.lulu.com/product/16681744
It is listed on Ingram and is expected on Amazon and other international retail sites in the coming weeks.
Title: Swedish Gold
Author: Catherine Eva Schandl
ISBN: 978-1-257-96026-2
Publisher: Lulu Books
About the Author: Catherine Eva Schandl, B.A. Honors, M.Ed., is a North American writer of Hungarian origin, and the author of "Sword of the Turul", "The London-Budapest Game," and "Swedish Gold."
###