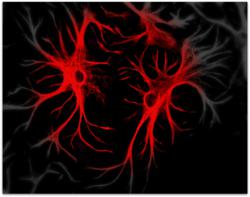 If you have the idea for a concept, Parthys Reverse Informatics has the process, expertise and resources to envision and co-create a great product
Chennai, Tamil Nadu (PRWEB) September 14, 2011
Parthys Reverse Informatics, one of India's fast growing information research organizations, announced a research collaboration with neuroscience researchers at Tufts University School of Medicine, a premier American university with a strong interdisciplinary research culture, to create an informatics solution for the neuroscience community.
The collaboration aims to seamlessly integrate various neuroscience genomics resources to provide a unified resource for neuroscience data mining. It will allow researchers to use flexible queries in data mining, enabling the extraction of meaningful relationships across functional domains and providing a gateway towards understanding the complex functions of the brain with possible relevance to neurological disorders.
"With data mining expertise from Parthys Reverse Informatics, and neuroscience and genomics expertise from Tufts, we hope to accelerate basic research discoveries in neuroscience and foster insights into neurological diseases such Alzheimer's, Parkinson's, and epilepsy," said Lakshmanan Iyer, PhD, research assistant professor in the department of neuroscience at Tufts University School of Medicine and principal investigator on this project.
"Parthys Reverse Informatics is delighted to be working with researchers at Tufts University to co-develop a computable neuroscience network and enable the much awaited in silico analysis in brain research. Our collaboration will help create a complete and comprehensive neuroscience data warehouse which provides a simple and efficient platform to facilitate navigation across the huge ocean of fast accumulating data," said Parthiban Srinivasan, Ph.D., President & CEO of Parthys Reverse Informatics.
About Parthys Reverse Informatics
Parthys Reverse Informatics is one of the leading informatics service provider, we supply solutions for all the aspects of Drug Discovery Informatics including Cancerinformatics, Neuroinformatics, Cheminformatics and Translational Informatics. Our three main service verticals are Literature Curation, Patent Analytics and Thought/Opinion Leaders' research. Literature curation is performed across Life Sciences and Chemistry, patent analytics across Biotech and High-tech industries, and thought leaders for Pharma industries. We deliver a complete, comprehensive and in-depth actionable data for researchers around the globe. To know more about us please visit http://www.reverseinformatics.com.
For further enquiries, please contact
Parthiban Srinivasan,
President & CEO,
Parthys Reverse Informatics,
IITM Research Park,
Chennai, India 600 113
Email: parthi(at)reverseinformatics(dot)com
###