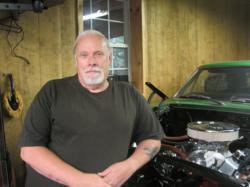 "When a shop is stumped on a repair or can't find a part, Ken is the guy they call."
Orwigsburg, PA (PRWEB) September 13, 2011
What started as a 3-month job helping out as a temporary claims adjustor turned into a major career shift for mechanic Ken Delaney. Fifteen years later, his contribution has been spotlighted by the founder of Preferred Warranties Inc. as a key factor to the company's steady growth to become a leader in the extended service contract industry.
"Technology drives the automobile's future, but for us, the key to keeping a handle on it all has been very human," says Preferred Warranties CEO Wayne Herring, Sr. "Ken Delaney has provided the crucial link between our extended protection plans, used car dealerships, repair shops and outstanding customer service."
Today Preferred Warranties is regarded as the quality leader in the extended service contract industry, offering aftermarket protection plans for cars, trucks, SUVs and motorcycles through dealerships in 16 states. Back in 1996, as the young company was just beginning to grow rapidly, its founder Wayne Herring Sr. came to Ken, a well-known area mechanic, for a favor.
"Wayne asked me to help out as acting claims manager for 90 days," explains Ken. "That was fifteen years ago. I guess I'm staying."
The people he works with are less understated when they talk about him.
"Ken knows cars better than anyone I've ever met," says Mr. Herring, himself a car guy who worked as both a mechanic and a dealership owner before founding Preferred Warranties in 1992. "He keeps everyone in the claims department up to speed on the nuts and bolts, old and new. When a shop is stumped on a repair or can't find a part, Ken is the guy they call."
Ryan Kincaid, service manager at Mercedes-Benz of Fort Washington, PA, agrees. "Ken and Preferred are on top of things, easy to work with. And that's a hard thing to find in a warranty company."
The well-known Fort Washington dealership, which boasts the brand's largest customer base in the Philadelphia tri-state area, has offered Preferred Warranties' service contracts on its pre-owned vehicles for twelve years.
"We're in the big blue chip dealerships, the mom and pops, and every size lot in between. The common thread is their commitment to quality and customer service," notes Ken, who is on a first name basis with practically all of them. "I've talked with just about everybody over the years. I enjoy getting out in the field to put a face behind the name."
Always a hands-on guy, Ken started working on cars when he was fourteen. He worked for years as a mechanic on trucks, RVs, and everything that came into his own shop. In his spare time, he's now rebuilding a 1966 Chevelle.
Ken's knowledge and enthusiasm are appreciated by all, especially his coworkers. They're a dedicated lot. Like Ken, many of Preferred's claims reps are highly trained, and certified by the National Institute for Automotive Service Excellence (ASE), a non-profit organization dedicated to the quality of vehicle repair and service.
"Four parties have a stake in a claim. When we do our job right, everyone feels good about it," Ken summarizes. "The repair shop gets paid fast and fairly. A happy customer will go back to the same dealer for their next car, and they'll want another Preferred Warranties' protection plan with it."
Since its founding in 1992, Preferred Warranties has been widely regarded as a quality leader in extended service contracts for used car dealerships. In 1998, it was ranked #179 on the Inc. 500 list of fastest growing U.S. companies and earned a Torch Award for Marketplace Ethics from the Better Business Bureau. The company continues to be rated A+ by the BBB. Today, Preferred Warranties are available through dealerships in 16 states: Alabama, Delaware, Georgia, Indiana, Kentucky, Maryland, Michigan, New Jersey, North Carolina, Ohio, Pennsylvania, South Carolina, Tennessee, Texas, Virginia and West Virginia. More consumer and dealership information is available on their website, http://www.warrantys.com.
###