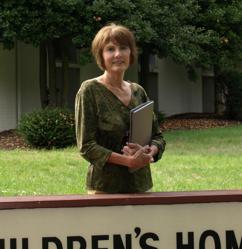 They write mostly about their losses, finding ways to express sadness, anger, and depression. They seek attention and approval. Their writing is pure and honest, at once beautiful and brutal.
Reading, PA (PRWEB) September 13, 2011
Teenage boys come to this century-old refuge from situations with big barriers and little hope. They all have issues: behavioral, psychological, legal or all of the above. Many have been neglected. Some have been physically or sexually abused. Most are from broken homes, and have little or no concept of a "normal" childhood.
At least they got one lucky break: rather than being in a juvenile detention center, they are among the 72 boys between the ages of 12 and 18 "in residence" at the Children's Home of Reading, Pennsylvania (CHOR). They are at this multi-faceted regional center to receive therapy, education and guidance toward the goal of returning safely to the mainstream.
In August, 2010, CHOR offered its first session of "I Am," a creative writing workshop developed and taught by an advertising executive. The program, familiarly known as "Pen to Paper" at CHOR, consists of 60- to 90-minute workshops held once a week for four to six weeks. Lengths vary depending on the number of students in each session.
"I wanted to develop a writing program for kids who have been neglected or abused, who are lacking positive role models and senses of self," explains Nancy Kauffman, head of NJM Advertising and an experienced copywriter, creative director and graphic designer. She is the author of a weekly newspaper column and numerous articles, and winner of several awards for fiction and feature writing.
"I know nothing about the boys except what they share in their writing," continues Ms. Kauffman. "When they realize that they can express themselves in their own words in a supportive, non-critical environment, most open up. It can be a way to work through a problem, to develop imagination and creativity, to develop self-confidence and self-worth by developing one's own unique writing style."
"I Am…" begins with the participant writing a character description based on the individual writer's own characteristics. One wrote:
"I am the cricket that chirps outside your tent, the water you swim in, the sun on your face. I eat breakfast, do my chores, learn how to survive in the wild. A day at camp is like a day at school: I get bullied. I am the one sitting in the corner crying for my mother, waiting to be picked up. I feel lost and scared. Why am I here? Is it to find out who I am or to find something I lost?"
During the half dozen classes per course, each student progressively develops his character by infusing different emotions, physical traits, and situations.
One year and seven courses later, "I Am…" has developed a rhythm of its own. Although it is taught in a group setting, the interaction between Ms. Kauffman and each student is intensely one-on-one to build a relationship of trust that allows each youth to write openly about his issues. A number of students have asked to take the course multiple times.
"They write mostly about their losses, finding ways to express sadness, anger, and depression," explains Ms. Kauffman. "They seek attention and approval. Their writing is pure and honest, at once beautiful and brutal."
"Please tell me God why I was born," wrote one youth. "Why do I have problems, God? Why am I in so many mental hospitals? Why am I a bad kid? Why was my dad in and out of my life and in and out of jail? Why was a gun pointed to my mom's face? Because God wants me to learn from my mistakes. I thank you, God, for helping me. I understand why."
"I experienced only one critical moment," recounts Ms. Kauffman. "Javon wrote poetic rap. He had a way with the rhythm of words, but he read with his face burrowed in the folds of the paper, and spoke in a whisper. He didn't interact with the others, make eye contact, or respond to compliments and feedback.
"The first night I asked him to try to write in sentences and he said, 'I don't do that.' I just said, 'That's okay. You're a good poet.'"
In the third session, Javon read a poem, inaudibly, his face almost touching the paper. When Ms. Kauffman made a suggestion to him, the youth slammed the tablet shut and cried, "I don't have to do this. She can't tell me what to do!"
He bolted out the door shouting, 'I'm not going back there.'
After class Ms. Kauffman wrote Javon a note, thanking him for taking part in the group, complimenting his work and encouraging him to keep writing.
Several months later Ms. Kauffman was injured and had to postpone the start of a new group. During her convalescence she was delighted to receive a rainbow of construction paper, neatly folded into get-well cards from her students at the Children's Home of Reading.
"I hope you get well soon so we can do more writing groups," wrote one.
"I am working on my writing. I miss doing your groups so I hope you get well so we can see you soon," wrote another.
One card was distinctly elaborate. On the cover of a folded piece of plain white paper were the words, "Good Future is a Get Well." A vine with green leaves and red flowers trailed between the words. Inside was a familiar, carefully crafted script.
"The sick you feel
Will ever last
Get it cured
Real soon, real fast
Sick is hurt
Sick is pain
It won't really work
If you walk in the rain.
Get better!"
It was signed, "Javon From Writers Group."
###