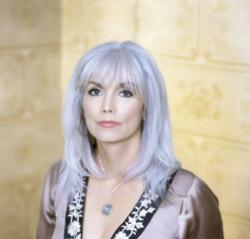 "The people in your life, and the joy of life, will always bring you back no matter what, and I think that's echoed in every song in a way. I may be stretching things a little bit but if you had to, 'Hard Bargain' would sum up this particular song cycle,"
Napa, CA (PRWEB) September 15, 2011
Already celebrated as a discoverer and interpreter of other artists' songs, 12-time Grammy Award winner Emmylou Harris has, in the last decade, gained admiration as much for her eloquently straightforward songwriting as for her incomparably expressive singing. On Hard Bargain, her third Nonesuch disc, she offers 11 original songs—three of them co-written with Grammy– and Oscar–winning composer Will Jennings—that touch on the autobiographical while reaching for the universal. Don't miss the Emmylou Harris live concert plus Simon Lynge on Wednesday, September 28th, 2011 at the Uptown Theatre. Doors open at 7:00pm, show starts at 8:00pm.
Few in pop or country music have achieved such honesty or revealed such maturity in their writing. Forty years into her career, Harris shares the hard-earned wisdom that—hopefully if not inevitably—comes with getting older, though she's never stopped looking ahead. On "The Road," with its layers of reverb-doused electric guitars and harmony-packed chorus, Harris addresses, more forthrightly than she's ever done in song, the short, life-altering period when she worked with country-rock pioneer Gram Parsons. She and producer Jay Joyce agreed this rousing number should open the disc, and its theme of coming to terms with the past sets the tone for much of what follows. Throughout the disc, Harris contrasts the comforts of long-time companionship with the rigors, and just maybe the rewards, of a more solitary life.
"The people in your life, and the joy of life, will always bring you back no matter what, and I think that's echoed in every song in a way. I may be stretching things a little bit but if you had to, 'Hard Bargain' would sum up this particular song cycle," observes Harris. Joyce's own luminous "Cross Yourself" serves as a hopeful, ethereal album closer, with a subtly spiritual undertone in its spare lyrics; Harris calls it "the perfect 'dot dot dot' song—you know, to be continued." And that's perhaps the overarching message of Hard Bargain: The music, like life, will go on.
Buy concert tickets for Emmylou Harris $75/85.They are on sale now and can be purchased through the theatre website at http://www.uptowntheatrenapa.com, at Ticketmaster (http://www.ticketmaster.com) or at the theatre box office (please call 707.259.0123 ext. 6 for hours). To find out more, please visit http://www.uptowntheatrenapa.com.
The Uptown Theatre Napa is the North Bay's ultimate destination for live concerts. Nestled in the famed West End district of Napa, this stunningly restored art deco masterpiece showcases only the finest acts, featuring music, comedy and more. An historic landmark, the Uptown is a phenomenal concert venue, offering an intimate live show experience, with excellent site lines and world class sound and lighting. Every seat is a great seat! To find out more, please visit http://www.uptowntheatrenapa.com.
Some of the biggest names in entertainment have played live concerts at the Uptown, including Boz Scaggs, Merle Haggard, Cyndi Lauper, BB King, Lewis Black, George Thorogood, Lyle Lovett, Ron White and many more. This is a must-see hot spot for anyone visiting the North Bay! See the list of artists playing upcoming live concerts at our beautiful concert venue and buy concert tickets on our web site.
###