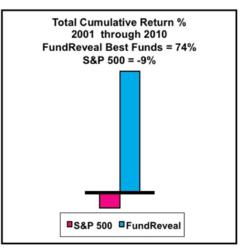 FundReveal predicts mutual fund performance by finding the funds with the best investment decision-making capability.
Ashland, MA (PRWEB) September 19, 2011
FundReveal (http://www.fundreveal.com) delivers mutual fund analysis products that are customized for Financial Advisors, Individual Investors, and 401k Participants. FundReveal predicts mutual fund performance. The mutual fund tools identify the best mutual funds that balance high return and low risk. Research shows that using previous year FundReveal measures to select the best mutual funds each year would have given a 74% gain in total cumulative return versus a 9% loss for the S&P 500, from 2001 to 2011.
The products announced today:
Financial Advisors—Advanced Portfolio Screener and Analyzer gives advisors the ability to select risk-return criteria and search the FundReveal database of 17,000 funds to find the best mutual funds to meet specific investment objectives. The mutual fund analysis tool delivers 8 key measurements for the universe of US mutual funds. Filters allow analysis of mutual funds by sector ($150 annual subscription).
Individual Investors—Fund Selector provides monthly analysis of best and worst funds. The investor can analyze mutual funds and identify the top performing mutual funds ($15 individual snapshot report or $100 annual subscription).
401k Investors—401k Fund Selector delivers analysis of mutual funds in any 401k plan to identify the top mutual funds available to the investor. The balanced risk and return approach helps investors weather uncertain economic times ($10 snapshot report or $50 annual subscription).
Investment Risk Management Systems developed FundReveal based on long experience in measuring mutual fund investment decision-making capability at a mutual fund giant. The driving insight is that mutual funds have investment management capabilities that lead to either sustained superior performance or mundane performance over time. FundReveal's risk-return measures identify these capabilities.
FundReveal is independent of fund companies, brokers, and advisors. Users pay a low fee to use the service, without hidden costs or gimmicks.
Investors can learn more and get a free trial at the FundReveal Web site.
About Investment Risk Management Systems Inc (IRMS): Mutual fund industry veterans founded IRMS to deliver objective, fact-based mutual fund information and analysis. IRMS offers investment products and services for advisors, self-directed individual investors, and 401k participants.
###