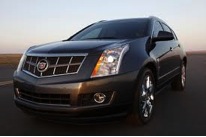 Joliet, Illinois (PRWEB) September 14, 2011
Bill Jacobs Cadillac-the leading Cadillac dealership in Joliet, Illinois is very excited about the new technology that Cadillac and GM are bringing to consumers. The Cadillac SRX in Joliet is one of the most popular models and it has been redesigned for 2012. The 3.6 liter direct-injected V6 engine gives the Cadillac SRX the most standard power in its very own crossover segment.
The new engine comes standard on all of the SRX models and the 2012 SRX is coming to Joliet soon.
General Motors engineers made some significant engine changes and redesigned the air induction and exhaust systems to get more horsepower and torque. The new improvements are very extensive and increases torque when people need it the most.
Bill Jacobs Cadillac has a great selection of the Cadillac SRX in Joliet as well as many used vehicles. People who are interested in the Cadillac SRX in Joliet should stop by Bill Jacobs Cadillac, one of the leading Cadillac dealerships in the Chicago area.