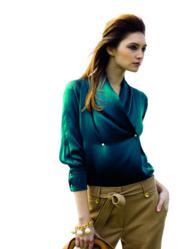 Win a Stylish Trip on Ted & Quintessentially Travel
(PRWEB) September 14, 2011
To support the launch of Ted Baker's AW11 collections, customers will be offered the chance to win an all expenses paid trip to three of the major fashion capitals of the World - Paris, London and New York throughout the months of September, October and November. Three trips will be up for grabs, one each month, with the prize including return flights for two people and three nights in a five star hotel courtesy of Quintessentially Travel plus a £500 Ted Baker spending spree and £500 spending money courtesy of Ted Baker.
Customers will be able to enter the competition in Ted Baker stores by scanning a QR code featured on swing tags, at cash desks and on store windows which will direct entrants to a dedicated bespoke microsite from the 1 September 2011.
For customers who do not have a 'Smart Phone', the competition will be available online via Ted Baker's website http://www.tedbaker.com, Facebook page, Blog and Twitter account.
As well as enabling customers to enter the competition, the dedicated microsite will provide insider tips on the best places to shop, drink and eat in the three cities along with suggestions on what to wear which customers can click through and buy. The site will also feature a shoppable AW11 look book and behind the scenes film of the Ted Baker AW11 look book shoots.
About Ted Baker
Established in 1988, Ted Baker London has grown from its humble roots as a shirt specialist in Glasgow, to a global lifestyle brand with over 100 locations in Europe, the U.S., Australia, Middle East, Far East and Southeast Asia. No ordinary designer label, Ted Baker offers menswear, womenswear, accessories (and everything in between), and is renowned for its quality and distinctive use of pattern and colour. The brand's unconventional approach to fashion, irreverent sense of humour and, above all, unswerving attention to detail appeals to style-conscious men and women who trust Ted to deliver that certain something... a little out of the ordinary. http://www.tedbaker.com
About Quintessentially Travel
Quintessentially Travel, the masters of travel couture, is a bespoke luxury travel company, specialising in creating unforgettable and truly bespoke tailor-made experiences the world-over. From the chic, to the unique, the exotic and the grand, Quintessentially Travel works with the world's most exclusive luxury resorts, hotels, adventure lodges, spa retreats, safari camps and private boltholes imaginable on earth. In addition, it has an exclusive portfolio of luxury cruise ships, trains, chauffeured cars, yachts and private and commercial jets on hand to make sure you journey in style. From the ordinary to the extraordinary, the known to the unknown, Quintessentially Travel don't just create holidays; they create experiences that last a lifetime. http://www.QuintessentiallyTravel.com
# # #