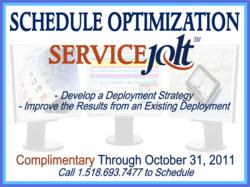 This complimentary service offering is designed to help company's either seeking guidance on how to deploy or those seeking to extract additional value from advanced scheduling technologies.
Saratoga Springs, NY (PRWEB) September 13, 2011
Jolt Consulting Group, a leading provider of business and technology consulting services for the customer service industry, announced that it will offer its Schedule Optimization ServiceJolt service offering free of charge for a limited time. The Schedule Optimization ServiceJoltSM is designed to enable an organization to either assess its readiness to deploy advanced scheduling technologies or to identify opportunities to extract additional benefit out of an already deployed solution. A more detailed description of the service can be obtained from the Jolt Consulting Group website. The service will be offered free of charge through October 31, 2011.
"Our recently completed advanced scheduling survey yielded some very surprising results," stated Jeff Oskin, president of Jolt Consulting Group. "It is clear that organizations are struggling with identifying how to deploy scheduling optimization technologies as well as how to extract additional benefit from an existing deployment and this limited time offer is intended to cost-effectively help them devise a plan tailored to their environment."
As was introduced in 2011, a ServiceJolt is a short duration engagement, typically less than two weeks, focused on a particular business area. Through a ServiceJolt, organizations can gain valuable insight into an aspect of their operation and also receive pragmatic recommendations specific to their situation. As part of an engagement, Jolt Consulting Group performs an assessment of an organization and its capabilities by interviewing staff, reviewing existing materials and talking, where appropriate, with customers. All of this information is then synthesized in a written action plan that organizations can implement to achieve the targeted business outcome.
Organizations interested in scheduling their complimentary Schedule Optimization ServiceJolt should contact Jolt Consulting Group via email or call 1.518.693.7477.
About Jolt Consulting Group
Jolt Consulting Group is a leading provider of business and technology consulting services for the customer service industry. Jolt Consulting Group enables customer service organizations, as well as providers to the customer service industry, to operate more efficiently, accelerate their growth, and have a deeper understanding of their customers. The result is the ability of our clients to achieve their strategic visions and realize greater levels of profitability and financial performance. Jolt Consulting Group possesses 20 years of practical experience running service organizations as well as leading technology companies targeting the service industry. Jolt Consulting Group is headquartered in Saratoga Springs, NY. For more information visit our website, our blog, or subscribe to our newsletter.
###