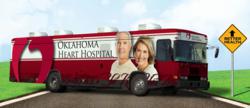 This partnership is a new way to focus on heart disease prevention, detection and treatment and, at the same time, increase our commitment to the people of rural Oklahoma.
Winter Park, FL (PRWEB) September 13, 2011
Oklahoma Heart Hospital is partnering with HealthFair (http://www.healthfair.com), the nation's leading provider of mobile health screening services, to make screenings for heart attack, stroke and aneurysm as easy as getting on a bus.
Oklahoma has one of the highest death rates from heart attack and ranks in the top ten in the nation in most risk factors for heart disease. Starting in September, Oklahoma Heart Hospital is teaming up with HealthFair, to offer affordable and accessible testing that includes electrocardiogram (EKG), carotid artery ultrasound, abdominal aortic aneurysm ultrasound, and three other ultrasound tests.
"Oklahoma Heart Hospital's partnership with HealthFair will provide a new way to focus on heart disease prevention, detection and treatment and at the same time increase our commitment to the people of rural Oklahoma," said Dr John Harvey, CEO/President of Oklahoma Heart Hospital. "These screenings will be available in both urban and rural areas to provide an excellent opportunity for Oklahoma Heart Hospital to educate our neighbors on the importance of preventive healthcare while making life-saving screenings more accessible across our communities."
Mobile health screenings give hospitals a cost-effective and efficient way to screen patients for life-threatening conditions. The most popular six-test prevention package is just $179 and all six tests take less than one hour to complete. In addition, those interested can also get a five-year disease risk assessment and lipid panel. This is a personalized report which calculates your five-year risk for major diseases, including stroke, diabetes, heart disease and lung cancer and provides a road map of how you can reduce your risk in each category. These results are provided at the time of the testing.
"The collaboration between HealthFair and Oklahoma Heart Hospital is a win-win," said James Ekbatani, CEO and chairman of HealthFair. "We are proud to partner with a well-respected name in cardiac Cardiovascular medicine like Oklahoma Heart Hospital to give even more people the peace of mind that comes from preventive healthcare."
Oklahoma Heart Hospital Screenings will visit the following cities in September: Oklahoma City, Edmond, Bethany, Enid, Shawnee, Yukon, Midwest City, Norman, El Reno, Moore, Chickasha, Sand Springs and Broken Arrow. To find the specific dates and locations near you, make an appointment by calling 1-855-253-8378 or visiting http://www.okhealthfair.com. Appointments are required and space is limited.
About Oklahoma Heart Hospital:
Oklahoma Heart Hospital opened in August 2002 as the first all-digital hospital in America totally dedicated to the care of hearts. Cardiologists from Oklahoma Cardiovascular Associates now called Oklahoma Heart Hospital Physicians partnered with Mercy Health Center to make the hospital a reality. In 2006, demand for cardiovascular services in the region prompted a $35 million expansion at the hospital. Oklahoma Heart Hospital physicians has more than 60 cardiovascular specialists working in 55 clinics across Oklahoma.
In 2010, Oklahoma Heart Hospital South Campus opened its doors as an all-digital hospital specializing in the care of hearts. The South Campus partnered with Oklahoma Heart Hospital, Mercy Health Center, Norman Regional Health System and Midwest Regional System to bring cardiovascular services to south Oklahoma City and eastern Oklahoma County.
Oklahoma Heart Hospital – Serving the State, Leading the Nation. http://www.okheart.com
About HealthFair
HealthFair, based in Winter Park, Florida, has been the national leader in mobile medical screenings for the past 13 years. The company's mission and passion is to save lives by providing quality, affordable, and accessible health screenings and testing to communities throughout the United States. By offering access to non-invasive, advanced imaging technologies at an affordable price, HealthFair empowers people to take control of their cardiovascular and breast health. Mobile screening clinics are Joint Commission certified for excellence and offer client employees or patients superior privacy, comfort, and convenience via work site or community testing.
###