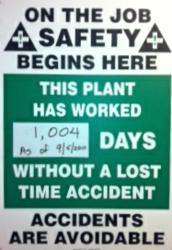 1000 days of worker safety is exceptional - our techniques improve the morale and health of our team
Baltimore, MD (PRWEB) September 20, 2011
Marlin Steel Wire Products, one of the fastest-growing manufacturing companies in Maryland, is now officially one of the safest. On August 29, 2011 the precision sheet metal fabricator and wire basket manufacturer reached the coveted 1,000 days of safety milestone, placing Marlin among the ranks of the safest manufacturers in the nation. "We are dedicated to safety and it shows," said Drew Greenblatt, President of Marlin Steel.
Marlin's long-term effort with the Maryland Occupational Safety Hazard Administration (MOSH) exemplifies this dedication. "We treat them like mentors because they are experts in safety," remarked Greenblatt. In addition to ensuring compliance with its guidelines, MOSH works with companies to designate specific areas of improvement. While some businesses abhor MOSH compliance inspections, Marlin embraces their useful feedback. This feedback is crucial to lowering the number of "time lost" accidents. "We closely collaborate with OSHA so they identify areas where we can improve. They have pointed out areas where we needed to improve and this has reduced accidents in our facility," said Greenblatt.
The accomplishment is even more remarkable since as Marlin expands, new machines are frequently added to the workspace. Growing stainless wire baskets and wire forms and sheet metal fabrications, the new robots are helping keep up with demand. While unfamiliar robotics could potentially jeopardize safety, Marlin's engineers continue to step up to the challenge. Earlier this summer the company invested in a cutting-edge Trumpf press brake equipped with an advanced safety sensor. "Contributing to our safety record is a heavy investment in the best robots in the world," said Greenblatt. Workers are in tune with every detail of the machines they are operating. "The robots do the mundane, boring, unsafe tasks and the associates do the interesting activities that are safe. It is a signal to the team that we care about them," said Greenblatt. "We are focused on their well-being." By integrating intelligent robotics into the production process, the human effort of Marlin's team is multiplied.
Marlin manufactures high-quality parts for an array of demanding international clients. To succeed in a global arena, Marlin guarantees a fast turn-around time. "Safety," said Greenblatt, "contributes to our ability to provide fast delivery on all of our custom metal products." This does not come easily, however. Marlin's unique workload consists of many short-run jobs using different machines and an arsenal of fixtures. "We do not do the same thing every day, which makes safety harder to accomplish." In this ever-changing arena, a safe working environment calls for a discerning attention to detail. It is this same precision that is needed to deliver the custom manufactured parts in pristine, secure condition for shipping.
This milestone speaks to Marlin's dedication to its employees, its products, and its ambitions for the future. "Our plan is that at my retirement party in thirty years," visualized Greenblatt, "we will still be on this same string of success." 1,000 days and counting, Marlin has no plans on stopping.
###