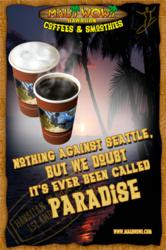 Greenwood Village, CO (PRWEB) September 21, 2011
In a bustling city like Chicago, where the trains come in like a perpetual tide, the Chicago Transit Authority (CTA) is an expert on managing the timely arrivals and departures of thousands of trains. With high commuter traffic and people on tighter schedules, the CTA has recognized an opportunity to revitalize their stations with retail locations. This revitalization offers Maui Wowi Hawaiian, http://www.mauiwowifranchise.com, a gourmet Hawaiian coffee and fresh fruit smoothie company, the opportunity of occupying one of the 137 concession spaces.
In 2009, when the CTA issued a bid for concessions at the Belmont station, Maui Wowi Operator Priscilla Taylor, jumped at the chance. Her persistence and dedication paid off and she was awarded a coveted location on the Red Line stop.
Priscilla is set to begin brewing and blending the 'Aloha Spirit' at her new Maui Wowi Hawaiian location in mid-September. "I am thrilled to be a part of this great community and the CTA 'Ohana (family). The relationship we have built with CTA is something we will nurture and are grateful to be a part of," said Priscilla. "We can't wait to bring the Hawaiian flavor and island attitude to the Lakeview community. We are happy to be there."
With 21 years of experience in corporate America as a Research and Development Manager, she decided it was time to seek a more fulfilling future. "I did everything I could have done in that field. It finally occurred to me to look into owning my own business," said Priscilla. After attending a seminar and meeting with a franchise consultant, she decided that Maui Wowi Hawaiian was a perfect fit. "The island appeal immediately resonated with me. I liked the laid back lifestyle but more important were the healthy products offered and a long time proven system," said Priscilla.
The Belmont Station serves the Red, Brown and Purple Evanston Express lines, which averages two million commuters a month and is one of the busier stops with three trains that converge there. Whether you are commuting to work or school, getting your Maui Wowi fix of gourmet Hawaiian coffee or a fresh fruit smoothie will become much more convenient.
About Maui Wowi Hawaiian Coffees & Smoothies:
Before the days of big Hawaiian resort hotels and fiberglass surfboards, surfers spent long, lazy days partaking in the tasty waves of the North Shore beaches. As the legends of the surfers grew, many were drawn to the healthy, carefree lifestyle of Hawaii. Since 1982, Maui Wowi Hawaiian has been spreading the 'Aloha Spirit' across the world with its premium Hawaiian coffees, all-natural fresh fruit smoothies and authentic Hawaiian products. From event carts, mall kiosks and stand-alone retail locations, Maui Wowi Hawaiian operates 575 locations worldwide. For more information about Maui Wowi Hawaiian's flexible, low cost franchising opportunities, visit http://www.mauiwowifranchising.com.
###