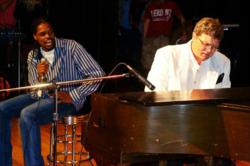 Hollywood, CA (PRWEB) September 14, 2011
America's Got Talent has skyrocketed the dreadlocked, Sinatra-singing Landau Eugene Murphy Jr. into the national spotlight. It's pretty heady stuff for a former car washer and road crew worker from the tiny coal mining town of Logan, West Virginia, deep in the Appalachian mountains.
That sudden fame from a national television hit like America's Got Talent can lead to many opportunities, but also many pitfalls without solid media training. That's according to GuestMatch.com Chief Media Strategist Burke Allen, who also heads Washington DC media, marketing and public relations firm Allen Media Strategies, and who shares an interesting connection with Murphy.
It just so happens that Landau (or Doonie, as he's known to his friends) and Burke are both from the same small hometown of Logan, West Virginia, population just 1,630 in the most recent census.
"There's no question that Landau is a phenomenal vocalist. We're all very proud of him, and I love the lessons he's taught every one of us about never giving up on your dreams. What I want to make sure of is that once he stops singing, and starts talking, that he has the skill set he'll need to really propel his career forward. For good or bad, people from where we grew up are often characterized unfairly as ignorant hillbillies, and Landau is too nice a guy to let that happen…just because of a potential misstep in how he deals with the media and press crush that's coming," said Allen, who represents entertainers, screenwriters, authors, speakers and other high profile individuals via the leading online media kit service GuestMatch.com and his boutique media, marketing and public relations firm Allen Media Strategies.
"Like the old Hooked On Phonics commercial says 'people judge you by the words you use', so we need to get Landau and those closest to him buttoned up and ready to make every word count, and count positively. There's no question that his life will never be the same after this rocket ride to national notoriety."
Burke is making available the services of both GuestMatch.com and Allen Media Strategies to Murphy to augment the assistance he's receiving from America's Got Talent, insuring he navigates through the challenging waters ahead.
"I've seen too many entertainers who didn't have anyone looking out for their best interests really get taken advantage of, and make crucial mistakes with their long term careers and families financial future. As a proud fellow Logan native, I'd hate to see that happen to a quality guy like Landau," says Allen of the America's Got Talent breakout star.
One of the pair's mutual friends is Landau's pianist and Allen Media Strategies client Bob Noone, who recently performed with Murphy side by side at a charity performance in Logan this past May and was in the audience as Landau's guest just days ago for an America's Got Talent televised performance.
"Bob related to me that the unbelievably high security and intense scrutiny already surrounding Landau is such a major departure from his life in Logan just a few weeks ago, that he'd really like for me to help Doonie (Landau). I've seen that kind of pressure with other high profile folks; if you think it's all wine and roses, you're very mistaken. The slip-ups you can make in dealing with the media, especially when fame comes on suddenly like this, can really hurt your long-term career. We need to make sure that Landau never washes another car again, unless it's in his own driveway. I'm happy to do whatever I can to help him; us Logan, West Virginia boys gotta stick together."
###