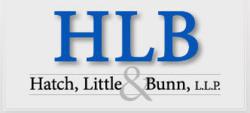 I am excited to be a part of the Hatch, Little & Bunn, L.L.P. legal team. I look forward to handling personal injury and workers compensation cases for the firm
Raleigh, NC (PRWEB) September 16, 2011
The law firm of Hatch, Little & Bunn, L.L.P. announces that Raleigh attorneys Justin R. Apple and James P. Little have joined its Raleigh office.
Justin R. Apple graduated from Campbell University's Norman Adrian Wiggins School of Law where he earned his J.D. cum laude. Justin clerked for Hatch, Little and Bunn, L.L.P. while in law school and joined the firm upon graduation.
James P. Little is a graduate of Wake Forest University and North Carolina Central University School of Law. While in law school, James served as president of the Student Bar Association and was a Senior Board Member of the Moot Court Board. In 2007, he was awarded the Floyd B. McKissick Award for Leadership and Scholarship at the school. He graduated from law school cum laude.
According to Justin R. Apple, "I am excited to be a part of the Hatch, Little & Bunn, L.L.P. legal team. I look forward to handling personal injury and workers compensation cases for the firm."
About Justin R. Apple
Justin enjoys leading an active lifestyle and can typically be found in a gym, on a golf course, fishing the North Carolina beaches or spending time with his family, friends and dog while away from the practice of law.
Justin R. Apple is originally from Greensboro. He represents clients from widely varying backgrounds but particularly enjoys assisting small businesses and the "little guy" with traversing the modern legal landscape. He takes pride in achieving the best possible outcome for his clients in a cost-efficient manner. Justin will focus on the following areas of practice:

Personal Injury
Workers Compensation
About James P. Little
James is a Wake County criminal defense attorney with extensive experience defending against driving while impaired charges, traffic violations, probation violations, drug offenses, and a wide variety of felony and misdemeanor allegations.
James has practiced in Wake County since 2007 and served with the Office of the Public Defender until 2011. During that time, James defended clients in Superior and District Court and served as the office's primary probation violation defense attorney from 2009 to 2011. In 2011, James joined Hatch, Little & Bunn's Criminal Litigation Section where he zealously represents clients against a wide variety of felony and misdemeanor criminal charges.
While James does not know of any ancestral ties between himself and founding partner James C. Little, for which the firm is named, James is proud to be a member of the Hatch, Little and Bunn "family." James will focus on the following areas of practice:
DUI/DWI
Traffic Offenses
Felony
Domestic Violence
About Hatch, Little & Bunn
A former Superior Court Judge, a former Clerk of Court, and a Wake Forest University Trustee founded Hatch, Little, & Bunn, L.L.P. in the mid-1950's. The firm's mission is to provide unmatched legal services to individuals and small businesses in a friendly environment where every client receives the utmost in personal attention. For more information about the firm, please go to http://www.hatchlittlebunn.com/ or call (919) 856-3940.
# # #