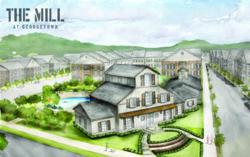 It's more than just a place to live, it's an all-encompassing experience catering to the tastes and lifestyle of young professionals.
Georgetown, KY (PRWEB) September 13, 2011
Coming in late 2011, Lifestyle Communities will introduce its newest apartment community, The Mill at Georgetown, in Georgetown, KY. The property is planned to have 228 one- and two- bedroom town home-style apartments with modern finishes as well as unique opportunities for residents to socialize.
Driven by steady demand for apartments in recent years due to uncertainties around the state of the economy and the housing market, Lifestyle Communities plans to add much needed rentals for young professionals in the Georgetown, KY area. "Our goal is to develop housing solutions that add value to the lives of our customers," says Lifestyle Communities CEO, Michael DeAscentis, Jr., "and right now, renting is heavily valued."
But it doesn't stop there. Lifestyle Communities folds multiple layers into the experience which they refer to as "The Good Life." "It's more than just a place to live, it's an all-encompassing experience catering to the tastes and lifestyle of young professionals," says DeAscentis.
Part of this experience includes BankIt, Lifestyle Communities' home savings program that helps apartment renters save up to $2,000 towards the purchase of a new home while they rent and at no extra cost to them. "We recognize that purchasing a home is a goal for a majority of our renters and we have a unique opportunity to support that goal," says DeAscentis. With BankIt renters can utilize dollars which would have otherwise gone purely to rent towards the purchase of a new condo at Lifestyle Communities' Hamburg Farms community in Lexington, KY.
Based on the historic mill in the heart of Georgetown that became the birthplace of Kentucky bourbon and inspired by the tradition and social nature of Kentucky's famous libation, The Mill is about bringing people together. Residents will have an array of social spaces and amenities at their fingertips including a relaxing pool with sundeck, plenty of green space, and a professional fitness center onsite. And, like all Lifestyle Communities, a full schedule of resident events will be offered including social and cultural events, pet friendly gatherings, and the annual ski trip which is free to residents.
Lifestyle Communities is a housing developer focused on delivering a better lifestyle for young professionals through innovative and smart housing solutions. The company currently manages 20 communities in Ohio and Kentucky comprised of over 7,500 apartment, condo, and single family homes.
For more information on The Mill at Georgetown call (502) 863-4336 or visit LifestyleCommunities.com/the-mill-at-georgetown.
###