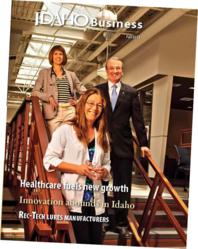 In every subsector, jobs in Idaho's healthcare industry are projected to grow faster than the national average.
Idaho (PRWEB) September 12, 2011
Idaho's healthcare industry is growing faster than the national average, adding jobs and infrastructure at a rapid pace over the next decade. Information about what is driving this growth, along with facts about Idaho's top industries, is highlighted in a new business magazine released by the Idaho Department of Commerce.
The Idaho Business publication is used to recruit new business to the state. The Commerce department created the publication to better communicate the state's strengths to companies seeking to expand or relocate in Idaho.
The fall edition of Idaho Business has sections on healthcare, technology, agriculture, tourism, recreational technology and renewable energy. The magazine also includes information on business assistance programs, top exports and the state's geographic regions.
In March, the department published the first edition which focused on the state's renewable energy sector.
The magazines are distributed at national and international trade shows and are used by economic development agencies throughout the state. They are also used by Idaho's international trade offices in Mexico, Taiwan and China.
Idaho Business can be viewed online at http://www.commerce.idaho.gov/media/media-resources/.
###