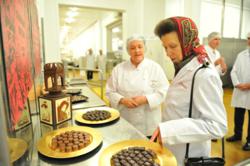 (PRWEB UK) 13 September 2011
During the visit, HRH the Princess Royal was taken on a tour of the Thorntons factory to see how its famous chocolate and toffee is made and met some of the company's longest serving employees.
The visit culminated in Thorntons CEO Jonathan Hart inviting HRH the Princess Royal to unveil a plaque to mark the firm's Centenary year.
This was the second time HRH the Princess Royal has visited Thorntons, after opening the company's packing factory back in 1999. Her Majesty the Queen has also visited the much-loved chocolate company, when Her Majesty officially opened its Thornton Park site back in 1985.
Joseph William Thornton opened the first ever Thorntons store back in Sheffield in 1911 and then handed the keys to his sons Norman and Stanley and told them to make it the best sweet shop in town, and they did just that. Today, Thorntons has over 600 stores and franchises across the country, employees over 4,000 people and is famous for making delicious chocolates which are enjoyed by millions of people up and down the country.
ENDS
Official photographs are now available. Please contact Emma Tagg, Thorntons PR Manager on 01773 542070 / emma.tagg(at)thorntons(dot)co(dot)uk or Thorntons Press Office on 0208 870 6777 / Thorntons(at)saltlondon(dot)com
About Thorntons:

Thorntons is the number one 'Chocolate and Confectionery' brand and the number 18 overall brand in the UK according to Superbrands' latest research.
Established by Joseph William Thornton in 1911, Thorntons is one of the UK's oldest chocolate retailers, headquartered in Derbyshire with more than 4,000 employees.
Thorntons has over 600 stores, including franchises across the country, as well as a strong direct http://www.thorntons.co.uk and commercial business, supplying all major supermarkets.
Products range from gift selections, chocolate blocks to toffee and ice cream.
Keith Hurdman is Thorntons award winning Master Chocolatier. With over 25 years of experience in the industry, Keith is an unusual phenomenon for the British chocolate industry as a homegrown talent with extensive training with some of Europe's finest confectioners and chocolatiers in Belgium, Switzerland and France. He is now widely recognised as one of the UK's most talented chocolatiers and in 2011 was crowned Joint Chocolatier of the Year by the Academy of Chocolate.
In 2011, Thorntons won four Academy of Chocolate Gold Awards for its Tonka bar and Centenary filled chocolates Raspberry & Rose, Vanilla Caramel and Crunchy Praline.
###