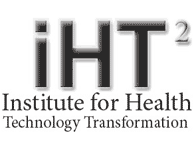 New York, NY (PRWEB) September 13, 2011
Frost & Sullivan recently conducted a web-based survey in conjunction with the Institute for Health Technology Transformation (iHT2) to understand trends in the use of social media within US provider institutions. Top line findings from the survey were published in the iHT2 Newsletter on September 7, 2011.
The iHT2 Newsletter can be downloaded by visiting: http://ihealthtran.com/downloadcenter.html#NL
The goal of the survey was to gauge issues around institutional access, purpose, expectations, and potential concerns; to assess institutional policies, staffing, and budgets; and to determine the current impact of social media among provider institutions. The field work was conducted between April and May 2011 and consisted of roughly 50 close-ended questions targeted at employees of healthcare provider institutions who are at least aware of social media, whether they use it or not.
The survey indicated that the use of social media is very high among the respondents, with eighty-four percent reporting that they use social media for personal purposes, seventy-five percent reporting they use it for professional purposes within their institutions, and sixty-eight percent reporting they use it for both personal and professional reasons.
Looking to the future, Frost & Sullivan highlighted opportunities for both health IT providers and vendors. For providers, the report points to an enormous opportunity that exists from institutions to harness the power of social media to create – and monitor – communities that strengthen the institution's reputation and empower patients with information that leads to more efficient health care decisions. On the health IT vendor side, the winners in this market will understand the unique needs and characteristics of all healthcare stakeholders and develop technology tools accordingly.
For information on how to purchase the full report, please contact Nancy Fabozzi, Senior Industry Analyst, Healthcare and Life Sciences IT, Frost & Sullivan, nancy.fabozzi(at)frost(dot)com
Frost & Sullivan will also be participating at the upcoming iHT2 Health IT Summit in Beverly Hills taking place November 2-3 at the Sofitel Los Angeles. http://ihealthtran.com/beverlyhillshome.html
About Frost & Sullivan:
Frost & Sullivan, the Growth Partnership Company, enables clients to accelerate growth and achieve best-in-class positions in growth, innovation and leadership. The company's Growth Partnership Service provides the CEO and the CEO's Growth Team with disciplined research and best-practice models to drive the generation, evaluation, and implementation of powerful growth strategies. Frost & Sullivan leverages 50 years of experience in partnering with Global 1000 companies, emerging businesses and the investment community from more than 40 offices on six continents. To join our Growth Partnership, please visit http://www.frost.com.
For more information on Frost & Sullivan, please contact Britni Myers, Corporate Communications, Frost & Sullivan, 210-477-8481, britni.myers(at)frost(dot)com.
About the Institute for Health Technology Transformation:
The Institute for Health Technology Transformation is the leading organization committed to bringing together private and public sector leaders fostering the growth and effective use of technology across the healthcare industry. Through collaborative efforts the Institute provides programs that drive innovation, educate, and provide a critical understanding of how technology applications, solutions and devices can improve the quality, safety and efficiency of healthcare. http://www.ihealthtran.com
For more information about this release please contact: Matthew Raynor, Senior Marketing Manager, Institute for Health Technology Transformation, 561-748-6281, matt(at)ihealthtran(dot)com.
###