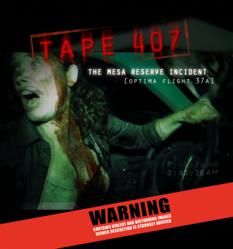 "More terrifying than surviving a plane crash is what awaits them in the darkness"
Hollywood, CA (PRWEB) September 15, 2011
One of Hollywood's most terrifying new films, Tape 407, features footage that feels too real for reality and too disturbing for fiction. This footage captured by two passengers on an airline flight from New York to Los Angeles spans the hours of one night until the next early morning. Boarding the plane on New Years Eve, two teenage sisters begin there impromptu filming of themselves and their fellow travelers. Unknown to them as well as the other passengers this flight is doomed from the outset. After taking off and soon celebrating the arrival of the new year the passengers are soon sent into shock and alarm as the plane experiences severe turbulence. The relentless weather attack causes panic and terror amongst the passengers until the plane ultimately crashes in a remote government-testing reserve. The filming of this incident and further events that ensue should not be taken lightly or viewed by the faint of heart. It is both engaging and harrowing as well as extremely disturbing. Soon after the crash the passengers take quick account of the few among them that remain alive, while also awaiting for the assumed rescue that should be minutes away. However, this does not occur. The survivors, bloody and disoriented, are then insistently pursued in the darkness by unknown predators that, unbeknownst to them, are part of the government's top-secret Mesa Experiment. The group of individuals that are among them are diverse and struggle with a common plan to move forward with and stay alive. Without warning deaths occur and lead each person to assess what they can possibly do to evade such a lethal threat.
As soon as plans can be hatched they are just as quickly thrown away. The few passengers who are left are forced to flee to various parts of their wild surroundings where they find shelter in abandoned structures. These structures turn out little help as they are assaulted with violent attacks from the outside. Soon help can be seen coming, but with events that turn for the worse this group once again finds themselves helpless and alone. Running through the dark and being trailed by something that cannot be fully seen, these survivors do the only thing they can, try to stay alive. However, in the following events that come they experience great loss and sadness coupled only with the bleak realization that they may not survive the night. Reacting as most would in this situation each one of them tries to support the other, while of course others are not as well equipped to deal with such events. Handling moments and situations that occur on the edge of human experience this film takes moviegoers on a whirlwind ride, with a twist ending that will leave you breathless, shocked, and terrified. A haunting film that should be prepared for before viewing. For more information, contact Suzanne DeLaurentiis Productions or It Girl Public Relations.
###