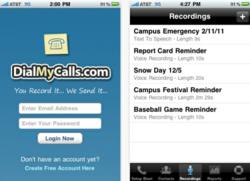 Jupiter, FL (PRWEB) September 13, 2011
Makers of DialMyCalls, the extremely popular voice broadcasting service with more than 20,000 users, launched their mobile application today for both the iPhone and Android platforms.
Users of their service can now download the popular mass notification system for free directly to their mobile phones from iTunes or the Android Market. Once signed in, either through their iOS or Android device, users have full access to all of their recordings, contact lists, call groups and stats.
As mentioned above, the brand new mobile apps are free to download and free to use. If you are a new customer to DialMyCalls, they offer their voice broadcasting service absolutely free. The "free voice message" consists of a 30-second recording that you can send out to 25 people per week – a great way to test out their service.
"We are trying to make it so that anyone, regardless of their age or technological knowledge can use our mass notification system with ease" says DialMyCalls owner David Batchelor. "While our web based system has been extremely successful, we wanted to give those who use iPhone and Android devices the availability of our services as well."
With the launch of their iPhone and Android applications, DialMyCalls continues to expand its mass notification system. Voice broadcasting has now entered the mobile age and with the DialMyCalls iPhone and Android apps, everyone can send out a voice message or text message to thousands of people instantly.
DialMyCalls runs on all Apple iOS devices: iPhone, iPod touch and iPad as well as any Android device. It is available for free download on Apple's iTunes App Store, Android Market and can be found at DialMyCalls.com.
About DialMyCalls
DialMyCalls.com was founded in 2006 and has brought the power of voice broadcasting to everyone. The company continues to grow and the launch of their brand new iPhone and Android app is proof of that. They have a strong team of developers along with their core staff and look to continue to expand as the demand for automated calling continues to rise. With the power of their mass notification system and their new launched mobile applications, DialMyCalls is your go to company for all of your voice broadcasting needs.
For more information, please visit http://www.dialmycalls.com or call 800.928.2086. You can also email tims(at)ontimetelecom(dot)com for additional information.
###