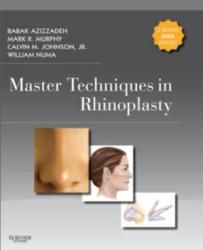 Palm Beach Gardens, FL (PRWEB) September 14, 2011
Dr. Mark R. Murphy, renowned Palm Beach plastic surgeon, continues to lend his knowledge in peer education – he has co-authored his third medical textbook, Master Techniques in Rhinoplasty (Elsevier). Having co-authored two previously successful works, Master Techniques in Blepharoplasty and Periorbital Rejuvenation (Springer) as well as Master Techniques in Facial Rejuvenation (Elsevier), Dr. Murphy provides expert insight on nose surgery.
Master Techniques in Rhinoplasty offers comprehensive information in a concise format for surgeons seeking surgical guidance. It is a multi-authored and multi-specialty surgical text and video atlas. Features include: open and endonasal primary and secondary rhinoplasty techniques with the use of step-by-step procedures, color line drawings, intraoperative photographs, and narrated videos on DVD. These components demonstrate the experience and expertise of the leading reconstructive and cosmetic plastic surgeons, notably including Dr. Murphy. Contributing to Master Techniques in Rhinoplasty attests to his skills and extensive background in facial plastic surgery. He is recognized for consistently creating natural-looking, long-lasting results in a safe and caring environment. At Palm Beach Facial Plastic Surgery, Dr. Murphy gives his patients the same mindfulness as he would for his own family, approaching each patient with honesty, integrity, and a precise attention-to-detail.
Committed to performing facial plastic surgery procedures using state-of-the-art technology, Dr. Murphy is double board certified by the American Board of Facial Plastic and Reconstructive Surgery (ABFPRS) and the American Board of Otolaryngology (ABOto). He is also a member of the American Academy of Facial Plastic and Reconstructive Surgery (AAFPRS), the American Academy of Otolaryngology (AAO), and the American Medical Association (AMA).
Master Techniques in Rhinoplasty is currently available for purchase online. It can be ordered via the publishing company's website, http://www.Elsevier.com, as well as on http://www.Amazon.com and http://www.Barnesandnoble.com. To learn more about Dr. Murphy, please visit his website or call (561) 659-9766. His convenient Florida locations are in Palm Beach Gardens and West Palm Beach.
###