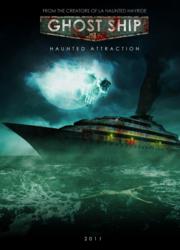 Newport Beach, CA (PRWEB) September 12, 2011
Top thirteen things to see and do in Newport Beach from September-December.
FEATURES
Creators of LA Haunted Hayride Launch GHOST SHIP in Newport Beach…and this terror sets sail
From the creators of the popular, Los Angeles Haunted Hayride, Ghost Ship is the first haunted attraction in the country to take place on a ship that sets sail into the dark, open ocean at night. Departing from Newport Beach, CA and comprised of three levels of highly interactive content, Ghost Ship will send guests on a 75-minute ride of pure terror where not one corner of this ship is off limits. Ghost Ship's maiden voyage is October 14th and operates every Friday and Saturday through October 29th. There will be three voyages per night at 6:30pm, 8:15pm, and 10pm. General Admission is $59. Only 400 tickets are sold for each voyage so space is very limited.
ACCOLADES

Newport Beach Named Best Urban Beach in the World!
It could be the crystal clear water, miles of pristine beaches, or that it is one of the most fashionable cities in the world, but whatever the criteria, Newport Beach, California was named the Best Urban Beach in the World by beach lifestyle experts – BeachTomato.com. One editor called it "A classic Cali beach – sun, sea, sand and city – long live the American beach dream." And Jos Davies, Marketing Manager, Beach Tomato said: "Twinning city and sandy style is never easy but the US has come up trumps with its famed Newport Beach. With long stretches of crystal waters and manicured beaches punctuated with piers worthy of couture catwalks, this has a worthy stamp of our top urban backdrop beach."
Newport Beach Named Best Beach in Orange County by the Orange County Register Newspaper
Newport Beach was named the BEST BEACH in Orange County for the Critics Choice in Orange County Register's 18th Annual Best of Orange County publication that comes out every year.
CULINARY OPENINGS
Pizzeria Mozza Opening Third Outpost in Newport Beach in Late September 2011
Mario Batali, Nancy Silverton and Joe Biastianich's Pizzeria Mozza will be opening on 800 West Coast Highway across from the iconic Balboa Bay Club & Resort any day now.
Michelin-Starred Tamarind Set To Open First US Outpost in Newport Beach in Late October 2011
Upscale unique Indian and Michelin-starred Tamarind restaurant will be opening in the old Sage Restaurant location in Crystal Cove Shopping Center this fall. Newport Beach is the first location outside of London and will make a BIG splash when they open.
The Crow Bar & Kitchen opened a new outpost called Crow Burger Kitchen on the Balboa Peninsula. They serve fine burgers and beers and the GM is Jerry McInerney, formerly of Bouchon, Beverly Hills and Las Vegas. The Crow Burger Kitchen is at 3107 Newport Blvd. It is open daily from 9 a.m. to 11 p.m.
EVENTS
SEPTEMBER
Friday – Sunday September 16 – 18 (Friday 6pm – 11pm – Sat/Sun 4pm – 11pm)
Newport Beach is an epicurean paradise that becomes even more appealing each September during the annual Taste of Newport. Dozens of Orange County's world-class restaurants serve samples of their best appetizers, dishes and drinks against a backdrop of fun and live entertainment. The event is such a palate-pleaser, more than 60,000 people attend annually. Musical guests include Joan Jett and the Blackhearts, The Barenaked Ladies, ABBA: The Concert and Tayor Dayne.
23rd Annual Quiksilver Newport Bach Surf Championships
September 24 – 25. Details to follow
OCTOBER
Sandcastle Contest (October 2, 2011) The favorite beach pastime of sandcastle building is taken to a new level at the 49th Annual Corona del Mar Sandcastle Contest, where "seashore sculptors" turn grains of wet sand into elaborate works of art. Each year, thousands of sightseers descend on Corona del Mar State Beach to watch participants - ranging from novice to expert - construct more than 30 entries. View these creations for free as a spectator, or consider making your own for a minimal entrance fee. For more information, call (949) 729-4400.
The Blackie's Longboard Association "Annual Halloween Costume Contest" (October 31, 2011) In it's 8th year, Blackie's by the Beach, a Newport Beach surfing institution calls out surfers to compete in this fun event off of Newport Pier, judging surfers not only by their surfing technique, but by their spooky and outrageous Halloween costumes!
Ghost Ship (October 14 – 29)
See details in Features above
DECEMBER
World-Acclaimed 103rd Annual Newport Beach Christmas Boat Parade (December 14 – 18, 2011) Since 1908, boat owners in Newport Beach have "decked the hulls" of their seagoing vessels for the annual Newport Beach Christmas Boat Parade. Ranked "Top Ten Holiday Lights in the World" by Frommer's, and "One of the Top Ten holiday happenings in the nation" by The New York Times, the parade features approximately 100 elaborately decorated boats, and draws more than one million spectators each year. Prizes are awarded in a variety of categories such as "Best Humor and Originality" and "Best Lights and Animation!"
Fashion Island Tree Lighting Ceremony – November 18 - 19, 2011
One of Orange County's most popular holiday traditions returns when Fashion Island hosts an evening of holiday festivities including a musical performance, culminating with the lighting of the Christmas tree in the Neiman Marcus-Bloomingdale's Courtyard. Event will take place at 6 p.m. both evenings.
Fashion Island Photos with Santa -- November 18 through December 24
Immediately following the Tree Lighting Ceremony on November 18, young visitors can meet with Santa to share holiday wishes and take photos. Santa will be at his custom-designed house on Atrium Lawn through December 24.
High and Low resolution photos and HD video is available upon request
Media Contact: Caroline Bruderer; (949) 467-2745
Visit Newport Beach Inc.
caroline(at)visitnewportbeach(dot)com
September 12, 2011
###