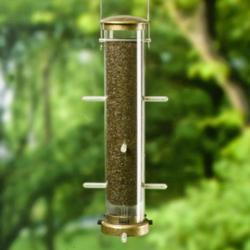 Clarence, New York (PRWEB) September 20, 2011
USA Bird Supply is helping birders discover new ways to attract specific birds by selecting the right kind of tube bird feeder. By definition, there is a tube. However, the size of the hole in the tube as well as the placement of the perch will determine the type of bird attracted and viewing enjoyment.
For example, a small hole with a perch underneath it is designed for nyjer feed which will attract finches—goldfinches, house finches, purple finches as well as redpolls, and pine siskins.
A larger hole with a perch underneath it is designed for sunflower seeds, safflower and mixes which will attract a wide range of songbirds. To avoid house sparrows, starlings and cowbirds, avoid grains used in mixes—corn, milo, red millet, oats, wheat and canary seed.
Nuthatches and goldfinches are fun to watch as they travel upside-down bird feeders or finch feeders that have the perch above the hole allowing the goldfinch to eat upside down.Other types of finches can not feed upside down. USABirdSupply.com offers a complete range of tube bird feeders.
To expand the types of birds attracted to your feeder, triple tube bird feeders with different types of seed will attract different bird types. Also, securing a seed tray on the bottom of tube bird feeders allows larger birds such as blue jays to land and eat.
One of the best types of tube bird feeders are easy-clean tube bird feeders with a twist-off removable base. This allows for cleaning debris out of the bottom which can collect bacteria.
To help avoid squirrel problems, squirrel proof feeders come with screens, or flip, tip or whip squirrels off your feeder. Baffles also are effective and come in wrap around, torpedo, or plastic domes or trays that can be placed above or below feeders. Hot pepper or red pepper in the food also discourages squirrels, yet birds are not deterred.
http://www.USAbirdsupply.com is Located in Clarence, NY Outside Buffalo And Offers Over 1100 Bird Products Including Bird Feeders, Bird Houses, Bird Baths, Martin Houses, Garden Art, Bat & Owl Houses, Garden Flags, Butterfly Feeders and Live Mason Bees.
###