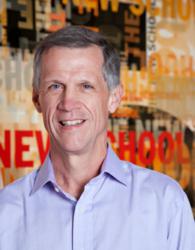 New York, NY (PRWEB) September 12, 2011
David E. Van Zandt will be installed as The New School's 8th president on Thursday, September 15, 2011. Van Zandt, a sociologist, attorney, and seasoned administrator, takes the helm of the New York institution at a decisive time for higher education.
Once know predominantly as a home for adult and continuing education, The New School has transformed over the last decade into a major degree-granting university with more than 10,000 students pursuing undergraduate and graduate study in the humanities and social sciences, design, administration and management, and the performing arts. The New School has the largest percentage of international students of any university in the United States and offers distributed learning programs to students in Europe, Latin America, and Asia and through on-site and online platforms. The university continues to open its doors to the community to hundreds of public programs, highlighting faculty research and student work, every semester.
David E. Van Zandt came to The New School in January from Northwestern University, where he served as dean of the School of Law from 1995 until 2010. At Northwestern, Van Zandt raised the school's public profile, forged numerous cross-cultural relationships with students and legal institutions internationally, and helped make Northwestern the most diverse top-tier law school in the U.S. With an eye toward the changing marketplace for legal professionals, Van Zandt created a unique, integrated three-year JD-MBA program that soon became the nation's largest. In addition, Van Zandt introduced the Accelerated JD that allows students to complete their law degree in two years rather than the normal three.
"Today more than ever, higher education must continually reinvent itself to remain relevant," Van Zandt said. "The New School is about change and seeks to equip its students for an unfamiliar and unpredictable future. I am proud to become the leader of a community that embraces that philosophy and look forward to collaborating with students, faculty, and staff on defining the next great New School moment."
Since arriving in January, Van Zandt has made it a priority to meet with New School students and learn their concerns first-hand. He has been an ally to their interests on everything from access to financial aid to career placement services. Van Zandt is eager to understand more about graduates' career trajectories and is working with academic leadership to design new degree programs that capitalize on the existing strengths of a world-class research faculty.
The installation ceremony will take place in the university's landmark John Tishman Auditorium on West 12th Street. Henry Bienen, Northwestern University president emeritus, will deliver an appreciation of David Van Zandt. Board of Trustees Chair Michael J. Johnston will formally present the new president to the university community while Provost Tim Marshall will honor faculty who have won university teaching awards this past year and bestow the University Charters upon the new president. Students from The New School for Jazz and Contemporary Music and Mannes College The New School for Music will perform.
David E. Van Zandt received his PhD in sociology from the London School of Economics. He is a graduate of Yale Law School, where he was managing editor of the Yale Law Journal, and served as a law clerk to both Judge Pierre N. Leval of the District Court for the Southern District of New York (and now of the Court of Appeals for the Second Circuit) in New York City, and Supreme Court Justice Harry A. Blackmun. Prior to entering the academy in 1985, Van Zandt was an attorney with the New York office of Davis Polk & Wardwell. Van Zandt succeeds Bob Kerrey, the former U.S. Senator, who served as president from 2001 until 2010.
The New School, based in the heart of New York City's Greenwich Village, is a legendary, progressive university inspiring undergraduates, graduate students and others to catalyze change in an inconstant world. Founded in 1919 as a hub of intellectual freedom by a group that included Charles Beard, James Harvey Robinson, John Dewey, and Thorstein Veblen, The New School today is a major degree-granting university comprised of distinct academic divisions. The university's 10,500 students are enrolled in 88 degree programs in the humanities and social sciences, design, administration and management, and the performing arts. In addition, the university's campus welcomes 3,544 adult learners in more than 650 continuing education courses every year. The New School holds hundreds of public programs that exemplify its commitment to democratic practice and social justice. For more information, visit http://www.newschool.edu.
###