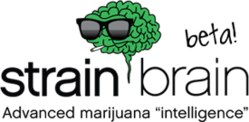 Miami, FL (PRWEB) September 14, 2011
StrainBrain, the web's most advanced marijuana reviews site, today announced the launch of free customizable cannabis labels for collectives and dispensaries, offering groundbreaking technology and security for the medical marijuana industry. At StrainBrain.com, cannabusinesses can create labels for literally hundreds of strains, which are scannable and pre-loaded with scientific data and pricing info, and can be completely customized by each dispensary. This is the latest feature added to StrainBrain, which has also recently submitted a mobile app to the Apple iTunes store.
"StrainBrain was created to apply the most advanced technology to the cannabis industry. Now these labels take our mission one step further with features that help make the marijuana industry safer, more professional, and more advanced for patients and business owners alike," said Jason Draizin, Chairman and CEO of the Medical Cannabis Network (MCN), the parent company of StrainBrain. "These free, customizable labels add a sense of professionalism for collectives that don't already have a labeling system in place, and work to help collectives protect their patients by giving them full insight into their meds."
Dispensaries and collectives can visit http://www.strainbrain.com/medical-marijuana-labels/index to download a label for hundreds of different strains. Each label includes average cannabinoid percentages and other information that is automatically pulled from StrainBrain's and PotLocator.com's comprehensive medical marijuana databases. Businesses also have the option to edit each field, add additional info and upload their company logo for a co-branded label. The information is then formatted to print on Avery 5263 label sheets for a professional and technologically advanced labeling system for each of the medicines they offer.
These labels not only offer a free businesses service to dispensaries and collectives, but they also empower patients who want full insight into each medical marijuana strain. By scanning the QR code on the label, patients can see the average TCH content, determine the average price of each strain, find out exactly where they can purchase this strain, read what other patients say about each strain's medical utility, and discover if there are coupons or discounts available for that particular strain.
"These labels, along with the soon to be launched mobile app that brings all the functionality of StrainBrain to a handheld device, are our way of creating a complete checks and balances in the marijuana industry, which currently lacks any sort of industry standard and regulation," added Draizin. "Between scanning the QR code on our new labels and using the functionality of StrainBrain on their mobile devices, patients now have a groundbreaking solution for ease of mind, clarification and understanding of any product they obtain from their local collectives."
About StrainBrain
Strain Brain combines the latest recognition technology with artificial intelligence to introduce a whole new level of marijuana exploration to users. For the first time in history, StrainBrain applies facial recognition technology to cannabis, making StrainBrain.com the most sophisticated marijuana reviews site ever created. StrainBrain uses a unique algorithm and proprietary image recognition technology to calculate the cannabinoid profile of each strain to determine possible matches in StrainBrain's comprehensive cannabis catalog. It then supplies detailed information about that specific strain, including medical uses and real laboratory data identifying its cannabinoid levels. The site utilizes artificial intelligence, which means users can upload photos and review their strains to "train the brain" and help increase the accuracy of the site's Bud Recognizer. The more interaction the site gets, the smarter the technology gets.
###