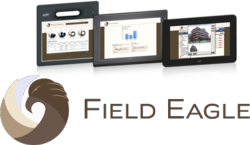 It's incredible how much time Field Eagle saves!
Toronto, Ontario (PRWEB) September 22, 2011
'Going Green' is more than just a phrase for the companies that promote more environmentally sound products and solutions. While many businesses around the world have tried to capitalize on the phenomena of environmental awareness, only those that incorporate the philosophy into their mission have emerged as the leaders in the industry. So what would a software solution catering to inspections, internal audits, and inventory be doing at Greenbuild 2011?
It's all about efficiency. While real estate developers, agents, brokers, and more discuss the future of maximizing efficiency while minimizing their carbon footprint, data management is often overlooked as a money-saving and time-saving feature. Fortunately, the minds at Konverge® did not overlook this important asset when they began developing Field Eagle. This innovative inspection software package was designed with inspectors in mind, but the application can stretch far beyond the field.
Modern business owners know that maximizing efficiency is the key to not only survival and longevity, but also to maintaining the highest level of quality. Data entry and maintenance is essential throughout the process of building management, especially when it pertains to efficiency and environmental awareness. Every aspect matters, from the location to the materials used. When the numbers at the end don't match what they were in the beginning, or data is lost, mishandled, or keyed in wrong, days and even weeks can be lost in the construction, development or maintenance.
Field Eagle was designed to bring everything together in one easy-to-use, customizable application so that when conducting an inspection or reviewing inventory, pictures, notes, and data can be focused into one central location immediately. At Greenbuild 2011 in Toronto, find out why Field Eagle is the solution businesses have been missing and how it can transform the operations that often become neglected.
October 4-7, 2011 at the Metro Toronto Convention Centre booth #5332S
About Konverge®
Konverge® is a Microsoft Gold Certified Partner and has been assisting businesses of all sizes improve their productivity since 1994. It's not enough in the modern business age to accept the status quo or be content with the software applications that currently exist. Konverge® moves beyond the ordinary and embraces the extraordinary. Customer satisfaction is Konverge®'s number one priority and because of that, it continues to provide the most exceptional business software application solutions available and they focus their energies on customizable programs for each business.
###