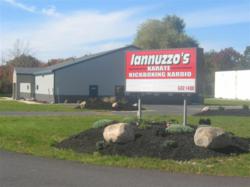 Earn your black belt in the privacy of your own place at your own pace.
(PRWEB) September 13, 2011
Taking a martial arts or fitness class can be daunting for many people; a strange facility filled with people who are not familiar can be less than ideal for those who wish to take classes. With this notion in mind, Rick Iannuzzo, a martial arts instructor, was excited to unveil a new online karate program.
Iannuzzo, of Iannuzzo's Karate School in Central New York created Internationalkarateschool.com, a website that enables Martial Arts enthusiasts to earn black belts in the comfort of their own home and on their own time. This website provides Martial Arts and Karate training online 24 hours a day, seven days a week.
The online program is designed for men, women and children of all ages. Iannuzzo says that the website fills a void for people who wish to train in Martial Arts but cannot take classes in the traditional class setting. The program provides different aspects of training including flexibility training, weapons training, nutrition and fitness counseling.
Students who train using the online program can send in DVDs or video chat if they cannot perform the curriculum for each belt in person.
As a 30 year Martial Arts expert, Iannuzzo has helped more than 1,000 students achieve a black belt and beyond. His style is something these students have enjoyed which is why Iannuzzo wanted to reach other karate enthusiasts beyond the Central New York span.
"I have found that so many couldn't afford a traditional martial arts school or are embarrassed or uncomfortable to train in the karate school," said Iannuzzo. "I have also found that many students have moved out of the Central New York region and cannot find our style of martial arts, so I have created this website for them."
Through this online program, Iannuzzo is able to reach more people and help them obtain their fitness, nutrition and Martial Arts goals no matter where these students live.
Since 1990, Iannuzzo's Karate School has been dedicated to developing programs that help students reach their martial arts goals. To learn more about the online karate programs available please visit http://www.internationalkarateschool.com.
By: Jackie Dresch
jhdresch(at)syr(dot)edu
# # #