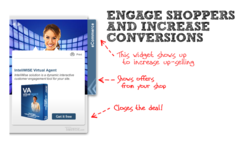 Forget about Virtual Agent software as you know it. Assistants are now proactive, acting like an intelligent alert advertising system.
Sunnyvale, Ca (PRWEB) September 14, 2011
InteliWISE, creator of award – winning Virtual Agent chat software, have released Triggers - a set of new sales engagement tools designed to engage shoppers in their purchasing process. Online store owners can easily deploy these automated live chat avatars, to reach out to shoppers with action relevant interactions in real time incl. rescuing abandoned sales opportunities. They can trigger a side tab widget on action and give site owners the option of hiding it before the action and then after the action as well.
Up to this point, Virtual Agents have been deployed in help desk or FAQ pages, waiting for customers to ask them a question. The traditional, intent - based, Artificial Intelligence recognition engine helped to understand shoppers' questions and provide with instant answers. While InteliWISE software tools can be used in this role, the latest engagement tools – triggers- promote action based Sales Strategies.
Shopper activities are monitored proactively, and when an action is taken by the shopper that matches a pre-determined condition, the Virtual Agent steps in to help. The Virtual Agent software is highly interactive and is able to offer added incentives to the shopper to complete the sale. Even in circumstances where abandonment is predictable the agent can request the shopper to leave an email address for future coupon or discount offers.
"Analysts have been monitoring and reporting on Virtual Agents and report that they are playing a critical role in building the right customer experience. Instant online support is also becoming a required feature of this category of software services", said Marcin Strzalkowski, CEO of InteliWISE. "We are taking the whole concept of virtual agents to a new level of interaction, where skilled virtual agents are not hidden in the least visited help sections. Now they serve clients proactively, with the right help at the right time , but without being too intrusive.
Through a set of Triggers and targeting tools, Virtual Agents can engage shoppers with either welcome messages or contextual live chats at the right time, with the right message.
Some of the Triggers include:
Virtual Agent chat can be launched:

On Page Load (just after loading, or after a given period of time);
On quitting / intent of abandonment;
On invite – i.e. After a specified amount of time spent on the site (i.e. 7 sec without activity);
Upon a defined previous activity (including web sites visited or products reviewed).
Triggers work like a precise tool that decides exactly when to approach shoppers and what message to convey. Shop owners have full control over setting the Triggers. After having set the triggers, shop or site owners may set sales targets for their Virtual Agents, just exactly the same way that they set targets for real sales persons in a real store. The Virtual Agents will meet or exceed those sales targets and will more than pay for themselves in a short period of time.
###