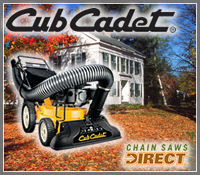 Cub Cadet chipper shredders have the power to tear up all the branches and debris that litter your lawn
Bolingbrook, IL (PRWEB) September 12, 2011
Today Chain Saws Direct announced the addition of Cub Cadet chipper shredders and chipper shredder vacuums.
"Cub Cadet chipper shredders have the power to tear up all the branches and debris that litter your lawn," said Mike Cosgrove, product expert at ChainSawsDirect.com.
With the addition of the Cub Cadet lineup, Chain Saws Direct has expanded the tow-behind chipper shredder and the chipper shredder vacuum product offerings.
ChainSawsDirect.com has compiled one of the biggest collections of chainsaws and other wood cutting equipment. The online superstore offers chipper shredders, electric chainsaws, gas chainsaws and pole saws from the nation's top brands.
In addition to Cub Cadet chipper shredders, Chain Saws Direct also carries chainsaws and chippers from Husqvarna, Tanaka, Earthquake and Hitachi, as well as a complete collection of chainsaw accessories and safety gear.
Power Equipment Direct operates nine niche online superstores. In addition to ChainSawsDirect.com, the Bolingbrook, IL-based company operates AirCompressorsDirect.com, ElectricGeneratorsDirect.com, PressureWashersDirect.com, SnowBlowersDirect.com, MowersDirect.com, WaterPumpsDirect.com, SumpPumpsDirect.com and LogSplittersDirect.com.
# # #