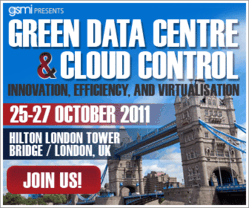 London, UK (PRWEB UK) 13 September 2011
GSMI is proud to present the Green Data Centre and Cloud Control Conference and Exhibition on October 25-27th in London. This event offers a unique opportunity to our delegate base. With both data centre efficiency and cloud computing topics addressed, attendees are given the unique opportunity to explore best practices on a wide variety of trends affecting your data centre design, operations and strategy moving forward. All sessions will have a facilities focus so you get the most applicable knowledge available.
The conference seeks to provide strategic information for data centre professionals looking to optimize their facility through increased efficiency and innovative data centre design trends. Industry experts, interactive workshops and case study presentations will be used to demonstrate the cost saving benefits of "greening" your facility. A full scope of data center operations will be covered, from retrofitting existing technologies to building a next generation facility from the ground up. Attendees will be provided with actionable solutions that will drive the ROI on your infrastructure investment.
Conference highlights and topics addressed include:
•Identify tools and technologies necessary for the development, migration and deployment of cutting edge solutions that drive enterprise wide performance and ROI.
•Outline a cost cutting blueprint for the data center that incorporates energy efficiency, virtualisation, and retrofitting best practices
•Leverage cloud computing and virtualization effectively to develop a scalable and secure infrastructure that leverages private and public cloud based applications and services.
•Connect and network with industry leading data centre, facilities and IT executives throughout three days of workshops, case study presentations and receptions.
The Green Data Center and Cloud Control Conference and Exhibition will be held at the Hilton London Tower Bridge on 25-27 October 2011. For more information on speakers, sponsors and the conference agenda please visit us online at http://www.greendatacenterconference.com. For registration and sponsorship information contact Jessica Drew at Jessica(dot)Drew(at)gsmiweb(dot)com or call 888.409.4418 ext. 8.
About Global Strategic Management Institute:
GSMI is dedicated to creating rich environments for learning, networking and ensuring their attendees have rewarding and beneficial experiences. GSMI hosts dozens of conferences around the world annually. GSMI is a leader in the industry of executive education and strives to always provide the best and most relevant speakers, learning sessions, and workshops as well as the optimal environment to both network and learn.
###