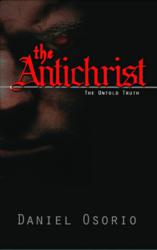 Brooklyn, NY (PRWEB) September 19, 2011
A looming catastrophe, one like no one has ever seen, will bring about a series of the most terrifying events on earth. In his new book, "The Antichrist: The Untold Truth," Daniel Osorio shares and interprets visions and dreams meant to warn the public about these occurrences. Today, one can look around and realize that both political and natural events have made the world a dangerous place. The increase in natural disasters such as earthquakes, hurricanes, tsunamis, and floods, not to mention the rise in murders, suicides, terrorism, plagues, and so on, is just the beginning of sorrows," says Osorio. One might wonder what other catastrophes or crises are to come. The author explains that while the Bible is not specific about a date, at a certain moment, when this time of financial tribulation has reached its climax and world leaders struggle to deal with the mounting calamities, a man of intrigue, masquerading as the Son of God will appear. "Millions will believe that his appearance is the fulfillment of prophecy. Unfortunately, it's not the Christ people expect, but the Antichrist masquerading as the Son of God," he says. Many will succumb to his deception, but the Bible states that those who know their God will do everything possible to oppose him. "Biblically," Osorio states, "we are living the earth's final days."
Will New York City, and indeed the entire world, be prepared for what is to come?
"The Antichrist: The Untold Truth" covers topics ranging from the future of New York City to the economy to the time of the Antichrist's appearance and of his deceptions. The author asserts that those who live in New York City should take particular note of his discourse, since his visions are specifically related to the city's fate in the end of times.
AVAILABLE AT: Barnes & Noble (BN.com, ordering Dept. 1-800-843-2665, http://www.barnesandnoble.com/w/the-anti-christ-the-untold-truth-daniel-osorio/1030556843), Amazon.com (http://www.amazon.com/Antichrist-Untold-Truth-Daniel-Osorio/dp/1450757391/ref=sr_1_1?s=books&ie=UTF8&qid=1314218040&sr=1-1), and many other online booksellers worldwide.
ISBN#: 978-1-4507-5739-3, $8.95, 5 x 8 Trade Paperback, 103 pages.
MEDIA: To speak with the author or arrange for an in-person interview, call Daniel Osorio at 718-599-0262, 718-313-4441, or e-mail Media(at)DanielOsorio(dot)org
###