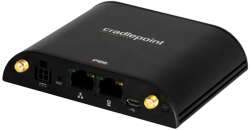 CradlePoint's new COR broadband routers provide mobile and fixed-location customers with a highly-featured, compact and robust networking solution.
Boise, ID and Austin, TX (PRWEB) September 13, 2011
CradlePoint, a leading provider of 4G/3G network solutions, announced today the release of CradlePoint COR IBR600 and IBR650 Integrated Broadband Routers. Introduced at this year's M2M Conference, CradlePoint COR is specifically designed to support the rigorous 24x7 connectivity demands of machine-to-machine (M2M) applications.
A fully integrated solution, CradlePoint's new COR broadband routers provide mobile and fixed-location customers with a highly-featured, compact and robust networking solution. CradlePoint's new routers expand their reach into space-constrained and high-availability applications, such as kiosks, digital signage, ATMs, video surveillance and vehicles with business-ready performance, reliability, security and remote manageability.
"The growth and pervasiveness of 4G and 3G mobile broadband is driving an intersection between two established markets - networking and wireless broadband," said Ryan Adamson COO of CradlePoint. "CradlePoint connects the two environments, providing robust connectivity solutions, regardless of pre-existing network infrastructure. Our introduction and delivery of an enterprise-class, mobile broadband solution for M2M capitalizes on this intersection and harnesses the power of wireless networks for distributed enterprises."
CradlePoint's routers feature built-in, high-speed 3G Evolution Data Optimized (EV-DO) RevA modems and include external antennas optimized for maximum mobile broadband performance. The routers support both 3G wireless and wired Ethernet WANs, enabling multi-WAN load balancing and failover/failback when redundant networks are used for maximum uptime.
For M2M system designers, the CradlePoint COR IBR600 series provides a reliable and performance-optimized turn-key solution that reduces the development and integration required to add network connectivity to M2M products. Unlike other integrated 3G routers in the market, the IBR600 series provides multiple Ethernet ports (LAN/LAN, or WAN/LAN for failover), and robust Modem Health Monitoring (MHM) to self-monitor and to maximize modem uptime. Additionally, large deployments of these devices can be managed under the WiPipe Central management service for centralized monitoring, configuring and upgrading of large numbers of geographically-dispersed systems without requiring on-site technical resources.
INDUSTRIAL-GRADE PERFORMANCE

Supports wired and wireless internet connectivity with pre-configured options for load-balancing and WAN failover/failback for maximum through-put and uptime.
Integrated modem includes external high-gain antennas for optimal reception. The antennas are removable allowing use of optional low-loss coax cabling and outside-mounted directional antennas for difficult reception areas.
Unique WiFi options on the CradlePoint COR IBR600 provide additional enhancements such as "captive portal" mode, which enables a customized public Hotspot, and "WiFi as WAN" for use as a WiFi to Ethernet adapter or WiFi repeater.
INDUSTRIAL-GRADE SECURITY AND RELIABILITY

Secure and reliable VPN functionality, allowing users to create, manage and terminate up to five concurrent IPSec VPN sessions.
WiPipe™ Technology-powered automatic failover/failback internal functionality increases network availability.
Fully-integrated modems are designed for 24x7 operation and employ CradlePoint's Modem Health Management features to improve modem stability and uptime.
REMOTE MANAGEMENT

WiPipe Central management service features:
o Centralized, cloud-based monitoring and proactive alerts when issues occur.
o Configuration and upgrade of large numbers of geographically-dispersed routers without requiring on-site technical resources, with unparalleled grouping capability to simplify mixed-network management.
Launching at this year's M2M Conference in Austin Texas, for which CradlePoint is a Platinum sponsor, the CradlePoint COR IBR600 Series Integrated Broadband Routers are available from CradlePoint's Authorized Partners. For information, visit CradlePoint's booth #1320 at the M2M Conference or contact CradlePoint's sales team at +1.208.287.5440 or routersales(at)cradlepoint(dot)com for more information.
About CradlePoint
CradlePoint is the leading provider of 4G/3G network router solutions providing business-grade, secure connectivity from 4G and 3G networks to distributed enterprise, small business and mobile customers. CradlePoint solutions are optimized to provide the highest level of wireless performance and provide management services to ensure the highest level of network uptime. CradlePoint is a privately held company with headquarters in Boise, Idaho. Learn more about CradlePoint products at http://www.cradlepoint.com.
###