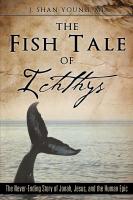 The Never-Ending Story of Jonah, Jesus, and the Human Epic
Longwood, FL (PRWEB) September 14, 2011
C.S. Lewis argued that the great myths share a common theme—a heroic struggle known to all men. By searching the origin and meaning of those epics, one can find they point to truth. Some of the most famous stories of all time were fish tales. Whether the plots included clown fish, killer whales, or deadly sharks, they appealed to readers from all walks of life. Whether horrifying or cartoonish, comical or inspirational, historic or science fiction, they hooked readers' souls. Still, the most incredible fish tale is the story of Jonah being swallowed by a large sea creature. Yet Jonah's saga was not the most important fish story ever told. Another has outlived its legend; it is the greatest fish tale ever told. In The Fish Tale of Ichthys: The Never-Ending Story of Jonah, Jesus, and the Human Epic ($18.99, paperback, 978-1-61379-349-7; $28.99, hardcover, 978-1-61379-350-3), a new Xulon Press book, author J. Shan Young, MD, weaves an incredible factual story of mythic proportions.
"I wish to narrate it for those who have ears to listen," the author says. "I record these words for those with eyes to see and with hearts to feel. It is for those foolish enough to believe, for the critics consider me just such a fool."
The author discusses many stories within the pages of this book. Although he has not read some of the novels or seen some of the movies referenced in it, he knows enough about them to know they warn of the same darkness all people face in life. "We read them because, deep down inside, we want to know how things will turn out," he explains. "From ancient classics to modern movies, from comedy to horror, from children's fairy tales to adult non-fiction, they all hint at who this tale is about. They point to our hero."
Xulon Press, a division of Salem Communications, is the world's largest Christian publisher, with more than 8,000 titles published to date. Retailers may order The Fish Tale of Ichthys through Ingram Book Company and/or Spring Arbor Book Distributors. The book is available online through xulonpress.com/bookstore, amazon.com, and barnesandnoble.com.
###