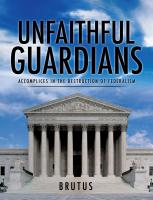 "My thoughts about the Constitution and my conclusions expressed in this book were initially influenced by the writings of several real legal scholars," the author says
Longwood, FL (PRWEB) September 14, 2011
According to author Brutus, Americans are not living under the Constitution that their forefathers provided for them. As a result, they are squandering their bequest of liberty. For decades, legal scholars have applauded and supported many of the court's decisions that are not based upon the original meaning of the Constitution but rather are based upon an unwritten constitution that the Court has been slowly knitting together. Only recently, he says, was he made aware of this difference. Within the pages of his new Xulon Press book, Unfaithful Guardians: Accomplices in the Destruction of Federalism ($25.99, paperback, 978-1-61379-457-9; $41.99, hardcover, 978-1-61379-458-6; $9.99, eBook, 978-1-61379-896-6), he reveals how he believes the court has served as an accomplice to Congress and the presidents in the destruction of federalism, and has permitted the ascendency of federal power.
"My thoughts about the Constitution and my conclusions expressed in this book were initially influenced by the writings of several real legal scholars," the author says. "My favorite book is Government By Judiciary. That book brought to light what has been happening in our nation during the last 100 years, leading me to conclude that Congress, our presidents, and the court have ignored the original meaning of the constitution for decades, if not centuries."
Brutus, a practicing attorney, says he did not write this book for legal scholars or for law students who are trying to master constitutional law. His intent, he explains, was "to write it for the average citizen who desires some detailed information about certain key provisions in the Constitution, and who is trying to make sense of what he or she sees, hears, and feels today about our nation and its struggles."
Xulon Press, a division of Salem Communications, is the world's largest Christian publisher, with more than 8,000 titles published to date. Retailers may order Unfaithful Guardians through Ingram Book Company and/or Spring Arbor Book Distributors. The book is available online through xulonpress.com/bookstore, amazon.com, and barnesandnoble.com.
###