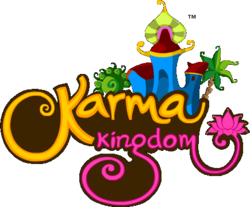 Karma Kingdom is a social game that utilizes Indian Mythology, which the wider Indian Diaspora will find familiar but at the same time one that the global audience won't get lost in.
Los Angeles, CA (PRWEB) September 14, 2011
Asvathaa Pte. Ltd., a Singapore based game development company has recently launched Karma Kingdom, an exciting quest driven online island game that can be played on Facebook. The tagline of the game, "Create Your Better World", best encapsulates the game on many levels. From an innovative non-linear user layout, an intrinsic positive message, to the opportunities afforded users to give to charities; the game is designed to lay new ground and direction for social games.
Asvathaa's intention is to bring to the market a new generation of original games based on the mythologies and stories from Asian cultures. Initially derived from 5000+-year-old heritage of the Indus valley, these interactive experiences will have a direct impact and positive influence in the way young people learn, play, socialize and participate in their communities and view the world.
Speaking of the game, Ashok Desai, Founder and CEO of Asvathaa, said," Karma Kingdom is a social game that utilizes Indian Mythology, which the wider Indian Diaspora will find familiar but at the same time one that the global audience won't get lost in. It took us a year to develop this game as we wanted to provide for a fun and entertaining medium for a broad global audience across a wide demographic and came up with layout and design that will appeal to all."
Karma Kingdom is all about creating a better world by the players. They have to find shelter and food for their initial citizens and later build-up their community. As the game progresses, users can buy extra items/ elements to make their community more self-dependent like hospitals, schools, restaurants and so on.
The game combines contemporary lessons with Indian mythology characters. For example, in the first rule of order, Lord Ganesha tells the users, to see his/her physical needs. Soon the players build a village, where food and shelter is available to anyone who asks. Then, Lord Ganesha directs the users to Lord Hanuman who guides players to take care of the community's social and spiritual needs and build good relationships with friends and neighbors.
All of the team members have found the development process a personal journey. Aaron Matthew, Head of Game Development said of the project, "It brings my love of eastern philosophy to the traditional social game audience." He added, "I wanted to create a fun game that leads to social good, and Karma Kingdom is exactly that."
The game play mechanism is user friendly that casual and social gamers globally will be familiar with. The game also has a unique day and night cycle feature. The game will have quests for day time and night time cycles where the users can complete the full day and night cycle in 15 minutes of the game.
Interestingly, the game also provides a unique connection between the virtual world and the real world, in a way it helps in improving the real world as you go about playing the game. Asvathaa has also dedicated a portion of their income to be donated to non-profit charities around the world. About this, Ashok says, "we want to offer a personal CSR (Corporate Social Responsibility) platform for every individual as the desire to give back exists in each one of us".
We are currently also setting up a development center in New Delhi. We want to bring to market a wave of social games that will encourage a brand new demographic to play these games. Currently we have 6-7 ideas that are in the early stages of development and are also planning to bring Karma Kingdom to mobile platforms.
Asvathaa Pte. Ltd. has chosen a multi-shore approach to developing the games and has offices in USA, Singapore and India.
Play the Game on Facebook at: http://bit.ly/kkapp
Visit the Karma Kingdom Fan Page at: http://bit.ly/KKpage
Karma Kingdom on Twitter: http://bit.ly/kktweet or or @karmakingdom
Karma Kingdom on the web: http://www.karmakingdom.com
Asvathaa on Facebook: http://www.facebook.com/Asvathaa
Asvathaa on Twitter: http://twitter.com/asvathaa or @asvathaa
Asvathaa on the web: http://www.asvathaa.com
For Press Inquiries Contact:
Ashok Desai
ashok(dot)desai(at)asvathaa(dot)com
+1-469-222-9263 (US)
###