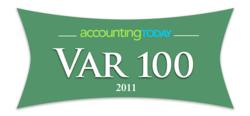 New York, NY (PRWEB) September 13, 2011
Accounting Today released its VAR 100 listing this week. With difficult economic times in recent years, many businesses have struggled. However, even while other IT service and business software consulting companies have lost ground under the financial duress in 2011, MIBAR.net has continued to thrive, thereby earning a coveted spot on the Accounting Today listing for the ninth consecutive year.
This illustrious listing highlights the top players in the accounting and ERP software industry. To determine the final listing, Accounting Today looks at companies that focus on Value Added Reselling (VAR). VAR-based companies utilize existing software but modify, implement and service it for added value to consumers. With the growing demand for software as a part of virtual technology, this competitive market can sometimes make success volatile, and the Accounting Today VAR 100 seeks to honor companies that have successfully navigated the marketplace, earning high profits and maximizing the customer's experience.
In order to determine the listing, Accounting Today utilizes total revenue figures, which is a widely accepted key factor in business success. The listing is widely regarded as a who's who in the VAR market, giving consumers added insight into up and coming companies and longstanding giants in the industry. This year, MIBAR.net placed 52nd, which is only a one spot variation from its position in 2010. Over the past nine years, despite the various ups and downs in the markets, MIBAR.net has managed to hold firm, with consistent recognition from Accounting Today.
MIBAR.net is based out of New York City. Over the years, MIBAR.net has established itself with its unparalleled IT services, which include its services as a VAR of Microsoft Dynamics CRM and Microsoft Dynamics Great Plains ERP accounting software. Additionally, MIBAR.net offers a full range of business consulting services, including a specialized business software consulting service that helps companies of all sizes deal with their finances through software support. MIBAR.net in particular has flourished with mid-sized businesses in the wholesale distribution and food and beverage industries, mostly in New York City and its surrounding areas, including New Jersey, Connecticut, and Pennsylvania.
In addition to this recognition from Accounting Today, MIBAR.net has also been named as a Microsoft Dynamics Great Plains Partner of the Year in recent years due to its powerful use of Microsoft software. With consistent recognition throughout the industry, MIBAR.net demonstrates why it has continued to thrive even after twenty years in the industry.
For the full listing of companies on the Accounting Today VAR 100 in 2011, interested individuals can check the Accounting Today website at webcpa.com.
An original copy of the release can be found on the MIBAR.net website.
###