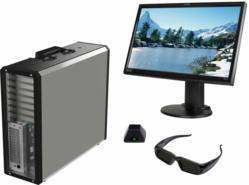 Nashua, NH (PRWEB) September 13, 2011
NextComputing, manufacturer of small form-factor workstations and servers, announces a new enhancement to its Nucleus compact graphics workstation that allows professional users to work in an immersive 3D environment within their favorite graphical software applications. By bundling the Nucleus with the NVIDIA® 3D Vision™ Pro system, NVIDIA Quadro® professional graphics solutions from PNY™ Technologies, and the Planar SA2311W 23-inch 3D monitor, designers, digital artists, engineers, and geospatial analysts now have a single, turn-key solution for working in stereoscopic 3D with a variety of popular applications.
NVIDIA 3D Vision Pro with NVIDIA Quadro graphics offers the highest quality, most advanced stereoscopic 3D environment for professional users. The system combines a pair of active shutter glasses and RF emitter with a certified NVIDIA Quadro graphics card and a compatible 120Hz display, in this case the Planar SA2311W, a full-HD (1920x1080) 23-inch widescreen monitor. When combined with NextComputing's high-performance and compact Nucleus workstation, power users have a reliable platform ready to run their preferred applications "out of the box", backed up by NextComputing's top-notch, US-based support and product customization services.
The Nucleus workstation features:

A compact and space-saving small form-factor mini tower chassis with an eye-catching and durable silver finish
High-performance Intel® Xeon® and Core™ i7 processing
Up to eight (8) no-tools removable internal 2.5" hard drives for up to 8TB of high-speed RAID storage
Full range of ISV-certified NVIDIA® Quadro® professional graphics solutions, up to the ultra high-end Quadro 6000 with 6GB GDDR5 memory
A convenient carrying handle if the system must be moved between locations
NextComputing's world-class customization services including OEM configuration management and private labeling for small volume orders
NVIDIA® 3D Vision™ Pro certified applications include:
Geospatial Intelligence / GIS: Analytical Graphics STK, Intergraph Imagine and GeoMedia Professional, Textron RemoteView, and BAE Systems SOCET GXP
Digital Content Creation (DCC): Autodesk Maya, IRIDAS SpeedGrade, Adobe Premiere Pro CS5 with Cineform Neo3D, and eyeon Fusion
Oil and Gas: Halliburton Geoprobe, Parasigm VoxelGeo and GoCAD, Schlumberger Petrel and GeoFrame, and SMT Kingdom Software
Life Sciences and Medical: 3mensio 3viseon, Accelrys Discovery Studio, Visage Imaging amira, CambridgeSoft ChemBio3D Ultra, and Siemens syngo.fourSight
Computer Aided Design/Engineering (CAD/CAE): Autodesk Navisworks,. Siemens NX, CEI Ensight, and Dassault Systemes CATIA
Advanced Visualization: Autodesk Showcase, Dassault Systemes 3DVIA, and RTT DeltaGen
The Nucleus 3D workstation bundle is available now from NextComputing and its authorized resellers. Please call +1-603-886-3874 or email [email protected] for more information.
About NextComputing
Based in Nashua, NH, NextComputing is a unique technology company specializing in extreme-performance portables and small form-factor workstations. Its open-standards, modular systems are used throughout many industries for a range of professional applications including real-time 3D visualization, high-throughput data streaming, and high-end application demonstration. Visit http://www.nextcomputing.com for more information.
Copyright legal disclaimer: All trademarks contained herein are property of their respective copyright holders.
# # #