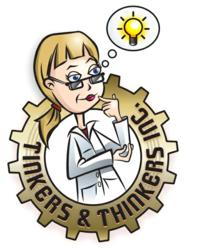 "Anyone can have a great idea, but most people can't make them a reality because of time and resources. I get excited helping people take an idea and get it on the market. And without a huge investment on their part."
(PRWEB) September 14, 2011
There is now a new way for people with great concepts and inventions to have their ideas evaluated by professionals without spending a fortune upfront. Tinkers & Thinkers, Inc. is the answer for anyone who has had a great idea but asked themselves, "now what?" For a modest application fee, anyone can submit an idea. If the Tinkers and Thinkers team finds that the concept or idea is marketable, they deploy the proper resources to take the invention or idea to the next level.
Tinkers & Thinkers, Inc. is not an intellectual property brokerage firm and is not in the business of selling ideas. Each invention submission remains confidential until an agreement is either settled or rejected.
Tinkers & Thinkers founder Tobias Ritesman has a passion for helping individuals with inventions succeed, "Anyone can have a great idea, but most people can't make them a reality because of time and resources. I get excited helping people take an idea and get it on the market. And without a huge investment on their part."
Tinkers & Thinkers, Inc. is an organization formed strictly to help anyone with a good idea bring them to light. Tinkers and Thinkers, founded by Tobias Ritesman, is spearheaded by a team of savvy project managers. With over 15 year of industry experience, their expertise lies in taking marketable ideas and making them a profitable venture.
Tinkers & Thinkers. The Idea Investors.
###