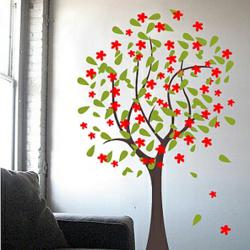 I make an effort in both my personal life and business practice to help, not hurt the environment.
Nashville, TN (PRWEB) September 14, 2011
"Live Sound, Live Healthy, Live Happy, Ride Bikes, & Plant Trees" is a key motto of SoundForest.org, an ECO-Charity that is now supported by WallsNeedLove owner Ali Abrahimia. Abrahimia recently commited to donate 1% of total company sales to SoundForest as just one the many ways that WallsNeedLove seeks to sustain and promote a greener planet. Vinyl wall decals sold by Abrahimia's Nashville-based company provide an eco-friendly decorating solution perfect for college students, renters, and homeowners.
Upon entering the market three years ago, WallsNeedLove has experienced rapid, sustained growth and frequently unveils new vinyl wall art designs. Currently, some of the most popular decal options include tree wall decals, monogram wall decals, nursery wall decals, and wall quotes. Customers can select from a wide range of color palettes, designs, and sizes when shopping for a wall decal and may even request custom designs. Vinyl art from WallsNeedLove is perfect for any room in the home, but is especially popular in living areas, bedrooms, and nurseries.
WallsNeedLove decals, which feature a variety of classic and modern designs, appeal to many style needs and tastes. Renters, who may find themselves unable to paint walls or hang pictures, will discover that wall decals provide a way to bring life to bland walls without causing damage. Expectant parents may find that vinyl wall art offers the ability to creatively and affordable customize a nursery. Homeowners looking to redecorate a room without having to release harmful paint fumes can use decals to bring a modern, fresh touch to their entertaining areas. Whatever the situation, vinyl wall art from WallsNeedLove can provide a clean, updated design to any room without breaking the bank.
All decals are made in the USA from premium quality removable vinyl that, once applied, appears to be painted on the wall. This vinyl art can be safely and easily applied to smooth, non-greasy surfaces such as painted walls, wood, glass, and ceramic tile. Many decals can even be removed and reapplied, providing both a practical and environmentally friendly decorating solution. Amy Richardson, customer and mother of two, described her experience using WallsNeedLove wall decals: "We used beautiful polka dot and star vinyl wall art to decorate our daughter's nursery. Now that we are expecting another baby girl, we can reuse same fun, colorful decals."
Abrahimia stated that he receives frequent e-mails from customers such as Amy Richardson recounting the various uses and reuses of their wall decals. Sustainable, eco-responsible practices are not only reflected in his company, but also in Abrahimia's personal life; the WallsNeedLove owner has chosen to reduce his personal carbon footprint by measures such as choosing to ride a bicycle to work. "I make an effort in both my personal life and business practice to help, not hurt the environment," Abrahimia said. "With every wall decal order custom-made, we are confident that materials are not being wasted."
Customers can know that their orders are fulfilled in a timely manner, often shipping same day. Affordable product offerings and low shipping costs make wall decals a popular choice for any decorating budget. Customer satisfaction is guaranteed with every order. With the increasing popularity of vinyl wall art, WallsNeedLove remains a market leader with its focus on customer service, appealing design solutions, and commitment to the environment.
Nashville-based WallsNeedLove offers premium vinyl wall art for anyone looking for an affordable, innovative design solution. Their site features a variety of designs, sizes, and colors as well as customized order requests. Presented with a design dilemma or bland walls, or simply need a finishing decorating touch? Check out http://www.WallsNeedLove.com or call 877-807-8897.
# # #