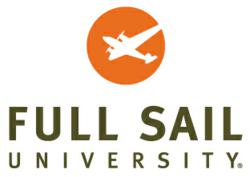 "It is always a pleasure to share my professional experience at ESPN with Full Sail's students who are eager and motivated to take their passion for the creative use of technology, and turn it into a life long career."
Winter Park, FL (PRWEB) September 13, 2011
On Monday, September 12, Full Sail University was proud to host David Saphirstein, ESPN Director, Creative Technology for a guest lecture and presentation to an audience of students, staff and faculty at Full Sail Live, the university's performance venue.
Prior to relocating to Florida, Saphirstein was the Creative Director at ESPN in Bristol, Connecticut where he managed design and animation for properties including NFL, NASCAR, Baseball, Football, College Basketball, Golf, Tennis and ESPNEWS. Currently, Saphirstein has an instrumental role in the ongoing Full Sail University Sports Lab powered by ESPN initiative that was co-launched on the university's campus.
"Throughout my career at ESPN, I have had the privilege of working on projects whose execution and success relied on the integral relationship between technology and creativity," said Saphirstein. "It is always a pleasure to share my professional experience at ESPN with Full Sail's students who are eager and motivated to take their passion for the creative use of technology, and turn it into a life long career."
During the presentation, Saphirstein explored the creative process behind ESPN, one of sports and media's strongest brands. Lecture topics included the management of the ESPN brand, the evolution of the ESPN graphics, development of the ESPNEWS look, and the process of involving inspiration and creativity in brand ideation. The event also featured an interactive Q&A session for audience members.
"Real world experience is not only a valuable asset to our students, it is part of the foundation of our curriculum," said Josh Mora, Full Sail University's Program Director of Sports Marketing and Media. "We are proud to host such a unique and inspirational event on our campus, and we thank David for his continuous efforts in sharing his knowledge and professional insight with our students."
About Full Sail University:
Full Sail University is an award-winning educational leader for those pursuing careers in the entertainment and media industry. Founded in 1979, Full Sail has been recognized as one of the Top Five Game Degree Programs by Electronic Gaming Monthly, one of the Best Music Programs by Rolling Stone Magazine, and one of the Best Film Programs by UNleashed Magazine. In 2011, Full Sail received the "21st Century Best Practices in Distance Learning Award" from the United States Distance Learning Association, was named the "School/College of the Year" by the Florida Association of Postsecondary Schools and Colleges, and was recognized as one of the Top 100 Social Media Colleges by Studentadvisor.com.
Full Sail offers Master, Bachelor, and Associate campus and online degree programs in areas related to animation, art, business, education, graphic design, film, marketing, web development, music, recording arts, sports, and video games. Full Sail graduate credits include work on OSCAR®, Emmy®, GRAMMY®, ADDY®, MTV Video Music Award, and Spike Video Game Award nominated and winning projects.
http:// http://www.fullsail.edu
http://www.twitter.com/fullsailupdate
http://www.facebook.com/fullsailuniversity
###