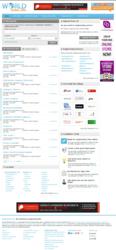 Derby, UK (PRWEB) September 13, 2011
A new website designed specifically for the engineering sector; to match engineer candidates to engineering recruiters, has been launched. World Global Jobs, a new recruitment website for the engineering sector, is aimed at matching engineers around the world to their dream engineering jobs.
Commercial Consultants UK has taken this initiative after seeing a surge in engineering sector recruitment over the past few years. Operating since 2005, Commercial Consultants UK is a specialist recruitment agency in the UK for the engineering sector. With very few websites on the web concentrating in the engineering sector, Commercial Consultants UK is aiming to provide a job portal to the engineering sector that will offer great value to candidates and engineers alike.
Commercial Consultants UK teamed up with Pyrspective, a digital marketing agency, to accomplish this project and put together an online marketing strategy to ensure the success of the engineering job portal.
Engineering candidates can now register on the website for free and use many of the features designed to help them find a great job. From short listing jobs of interest to setting up alerts to be received in email and a free online CV builder, engineers can now use this simple website and a host of great features.
World Global Jobs offers an equally exciting opportunity to potential employers, who can start by posting their engineering job or choose from a variety of packages designed to help employers search for their perfect candidates from the engineering candidates' database.
With already thousands of candidates signed up, and nearly 150 jobs awaiting engineers, it is time to visit http://www.worldglobaljobs.com.
###