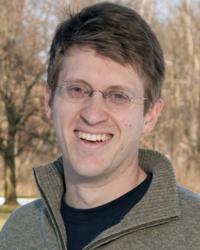 "This program is a composer's dream come true. It will give me both freedom to experiment and practical experience that will be invaluable as I continue to develop my craft. I am humbled and excited by the opportunity."
Philadelphia, PA (PRWEB) September 13, 2011
The Opera Company of Philadelphia, in collaboration with Gotham Chamber Opera and Music-Theatre Group in New York, is proud to announce that composer Lembit Beecher has been selected as its first Composer In Residence (CIR). Lembit Beecher is a 30-year-old, New York-based composer from Santa Cruz, California. As Composer In Residence, Beecher will be an active participant in the workings of the three partner companies, focusing on practical learning and creative growth. He will divide his three-year residency between Philadelphia and New York.
Funded over five years by a $1.4 million grant from The Andrew W. Mellon Foundation, the goal of the CIR program is to foster tomorrow's American operatic masterpieces through personalized creative development and intensive, hands-on composition opportunities for today's most promising composers. To enhance the comprehensive and collaborative nature of this program, the Opera Company of Philadelphia is partnering with two New York companies: Gotham Chamber Opera, which specializes in innovative productions of intimately-scaled, rarely-performed works, and Music-Theatre Group, well known for their commissioning and development of new works. A second CIR will be selected on a competitive basis in 2012 to work concurrently with Beecher.
"Lembit's music displays an emotional authenticity that is perfectly suited to exploring the opera genre and the lyric theater," shared Opera Company of Philadelphia General Director David B. Devan. "He's interested in finding new ways to tell stories with music, including working with our community to create meaningful art from the lives of Philadelphians. This residency will give him access to the huge knowledge base of three opera companies, much practical learning, and most importantly the time to hone his creative voice for the stage."
The Composer In Residence position combines its individualized plan of study with a living stipend and health benefits. Beecher said, "This program is a composer's dream come true. It will give me both freedom to experiment and practical experience that will be invaluable as I continue to develop my craft. I am humbled and excited by the opportunity."
Born of Estonian and American parents, Beecher's music focuses on themes of storytelling, nature and the immigrant experience. His large-scale composition, "And Then I Remember," won the 2010 Opera Vista competition. This piece, which he describes as a "documentary oratorio," combines Estonian folk poetry, classical singing, orchestral writing, and recorded interviews to tell the moving story of his grandmother's World War II flight from her native country. In his proposal for the CIR program, Beecher wrote, "I would like to explore the connection between true stories from people's lives and the fictional stories that they find particularly important." He graduated magna cum laude from Harvard University in 2002 and holds a Masters of Music in composition from Rice University (2005); he earned his Doctor of Musical Arts in composition from the University of Michigan in 2009. Beecher was one of more than 170 applicants for the Composer In Residence search. After the first round open call for scores, 37 of the composers were asked to submit additional materials, after which three composers were chosen for a final interview.
"Lembit is a born collaborator," Music-Theatre Group Producing Director Diane Wondisford said, "which is key to the opera composer's craft. This experiential residency will connect him to mentors and peers, and prepare him to enter the field as a viable composer of opera." Gotham Chamber Opera Music Director Neal Goren added, "Gotham Chamber Opera is proud to be working with Beecher. His is a fresh, individual, and – above all – a compelling voice."
Commenting on the important role that the CIR Program will play in fostering the great American composers of tomorrow, OCP Artistic Director Robert Driver shared, "It is essential that we, as opera producers, be active in generating new works for the operatic stage, which includes discovering and nurturing exceptional new talents like Beecher, who might not enter the field otherwise."
For the Opera Company of Philadelphia, this program complements the American Repertoire Program (ARP), a commitment to producing an American opera in each season for the next decade, announced earlier in 2011. The ARP begins in 2012, when the Opera Company of Philadelphia hosts the OPERA America Conference in June around the premiere of the Nico Muhly/Stephen Karam opera Dark Sisters, co-commissioned and co-produced by the three CIR companies, and also includes the recently announced co-commissions of Oscar by Theodore Morrison and John Cox (2015) and Cold Mountain (2016) by Jennifer Higdon and Gene Scheer, both co-commissioned and co-produced with The Santa Fe Opera.
Beecher begins this fall, and his first activities will center on the Opera Company of Philadelphia's upcoming production of Carmen as well as the development of Dark Sisters, which is in workshops leading up to its New York world premiere in November 2011, and its Philadelphia Premiere in June 2012.
To learn more about the Opera Company of Philadelphia, please visit operaphila.org.
###