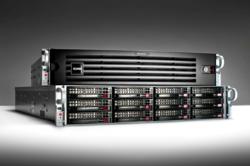 Downtime for us is extremely costly," said Mike Martell, systems manager at The Dingley Press. "To support our operations we required a cost-effective storage solution with reliable failover that would eliminate risk of downtime. RELDATA offered it all."
Parsippany, New Jersey (PRWEB) September 13, 2011
RELDATA Inc., a leader in unified storage solutions over iSCSI, today announced that The Dingley Press Inc., one of the world's largest catalog printers, is using RELDATA storage solutions for comprehensive storage and data availability for multiple terabytes of business data in a virtualized computing environment. To eliminate the risk of costly downtime, The Dingley Press implemented RELDATA storage solutions to assure round-the-clock availability for its data-intensive business operations.
The Dingley Press, located in Lisbon, Maine, has served the unique needs of catalogers since 1928. The company's long-term success reflects a high level of customer care and service that includes significant paper and postage savings with a unique "rightsize" press format, advanced co-mailing and distribution capabilities, and exceptional manufacturing reliability.
To support its complex printing and distribution operations, which deliver more than two million catalogs daily, The Dingley Press uses business systems such as enterprise requirements planning, email communications and many other business applications. The applications are retained in multiple virtual servers that require 24x7availability. Any system downtime drastically impacts company operations.
"Downtime for us is extremely costly," said Mike Martell, systems manager at The Dingley Press. "To support our operations we required a cost-effective storage solution with reliable failover that would eliminate risk of downtime. RELDATA offered it all. With two RELDATA systems in place we have no single point of failure. One system can go up in smoke and users would never know it. If we lose one system completely, all storage operations move seamlessly over to the other system."
RELDATA offers high-performing, cost-efficient storage solutions designed for physical and virtualized computing environments for mid-market organizations. Based on a fully redundant architecture with no single point of failure, RELDATA provides the high availability needed for managing multiple virtual servers or desktops and other complex applications.
"RELDATA delivers a highly reliable, cost-effective solution for companies such as The Dingley Press that demand 24x7 availability," said Victor Walker, CEO of RELDATA. "We pride ourselves on addressing our customers' individual requirements and implementing storage solutions that deliver real value and flexibility on top of the performance and reliability features that are so critical to supporting business operations."
"Another reason we chose RELDATA was flexibility - they worked with us to achieve our specific objectives, such as helping us develop the tools we needed for the snapshot backup system," added Martell. "Other companies may offer fine technology but you're stuck with a pre-packaged set of features that aren't necessarily the best fit for your existing requirements. RELDATA offered the right mix of high performance technology, reliability and flexibility at an attractive price."
The Dingley Press installed a pair of RELDATA storage systems in a failover mirrored cluster, running 8TB (total of 16TB in cluster available). These systems work seamlessly together, maintaining two full copies of the total storage environment and supporting the critical applications running SQL, Exchange, VMware and several industry-specific applications as well as production monitoring for all phases of production and integration with the postal system.
In addition to delivering superior system availability, the RELDATA storage systems also have enhanced The Dingley Press's data backup processes. Data on The Dingley Press's storage volumes is provisioned to file servers and for persistent storage for virtual servers. These are backed up using RELDATA RELbot scripts which take a snapshot of each of the provisioned volumes at the close of the business day. This assures that The Dingley Press always has a current and available backup if restoration is ever required.
For more information RELDATA unified storage solutions, please visit: http://www.reldata.com/products.
Tweet this: Dingley Press Uses RELDATA Unified Storage to Assure High Availability and Reliability of Virtualized Server Environment
Follow RELDATA on Twitter: http://twitter.com/RELDATA
About RELDATA
RELDATA is the innovation leader in unified storage solutions over iSCSI which cost-effectively enable mid-size and distributed enterprises to nondisruptively consolidate, virtualize and protect business data across multi-vendor platforms, providing highly scalable, cost-effective integrated storage, disaster recovery and high availability solutions. The RELDATA Unified Storage Engine (USE™) platform allows companies to integrate their existing storage infrastructure to minimize the functional compromise of siloed block and file solutions while reducing administration costs and data protection compliance risk, and preserve current storage investments at lower total costs. Founded in 2005 and headquartered in Parsippany, New Jersey, RELDATA solutions are available through a global network of value added resellers. For more information, visit http://www.RELDATA.com.
###