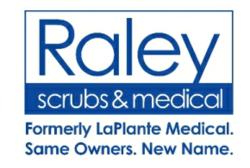 Raley Scrubs takes this trend a step further by offering fun and fashionable health care uniforms...
Tulsa, OK (PRWEB) September 13, 2011
From warm hues on the walls to comfortable, home-like waiting areas, medical facilities have moved from the sterile, impersonal aesthetic of the past to beautifully designed spaces where patients and families can feel at ease. Raley Scrubs takes this trend a step further by offering fun and fashionable health care uniforms, giving new personality to healthcare providers as well.
Raley Scrub's is pleased to offer a complete line of trendy and modern scrubs, medical jackets, and footwear, including Cherokee Nurse Scrubs and Baby Phat Uniform Scrubs. Now nurses and healthcare staff can express their personal style with a variety of new prints and colors, while maintaining the comfort and functionality of the traditional scrub uniform.
The newest Cherokee Scrub Uniforms feature fun florals like Bellisimo and Eco Floral as well as dynamic prints like their Leopard Chic and Geo Dots. Cherokee print tops range from colorful, whimsical designs to sophisticated, elegant prints, allowing nurses to select styles that express their personality, create a conversation piece, and make their patients feel more comfortable. Cherokee Nurse Scrubs come in a variety of sizes and styles, providing the perfect fit and look for everyone.
Forget everything you know about baggy, frumpy scrubs! For a unique take on a classic look, Raley Scrubs also offers Baby Phat Uniform Scrubs. The new Baby Phat medical uniform line features stylish seaming, a variety of neckline options, and subtle design elements to create a flattering, yet comfortable fit. From their Viva La Diva and "Fabulosity" tops to "The Pant"...the names say it all! Baby Phat uniforms & scrubs come in traditional white as well as bold, bright colors.
Studies have shown that a patient's perception of care is directly influenced by the visual surroundings of their healthcare facility. Raley Scrubs takes great pride in adding to the professionalism and style of health care uniforms by partnering with innovative and popular brands like Cherokee, Baby Phat, Dickie scrubs, and Tooniform scrubs. Whether you are looking to outfit your office staff with a cohesive, uniform look or want to express your personal style with fashionable prints, check out the latest nursing uniforms on sale at Raley Scrubs!
###