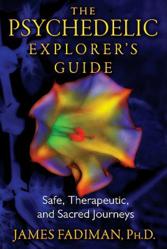 This is some of the most thoughtful, wise, heartfelt, and essential instruction for the use of sacred medicine.
Palo Alto, CA (PRWEB) September 14, 2011
A new book by Dr. James Fadiman, a professor at the Institute of Transpersonal Psychology, outlines the best practices for safe, sacred, entheogenic voyages learned through more than 40 years experience and research on psychedelics.
Dr. James Fadiman has been called "America's wisest and most respected authority on psychedelics and their use." He has been involved with psychedelic research since the 1960s. In his new book, The Psychedelic Explorer's Guide: Safe, Therapeutic, and Sacred Journeys, Dr. Fadiman outlines the immediate and long-term effects of psychedelic use for spiritual, therapeutic, and problem-solving purposes. The comprehensive guide outlines historical uses and reviews new and neglected research into the psychotherapeutic value of visionary drug use for personal awareness and a host of serious medical conditions.
Cautioning that psychedelics are not for everyone, Fadiman dispels the common myths and misperceptions about psychedelics circulating in textbooks, clinics, and on the Internet. Exploring the life-changing experiences of such luminaries as Ram Dass, Timothy Leary, Aldous Huxley, and Huston Smith as well as Francis Crick and Steve Jobs, Fadiman shows how psychedelics, used wisely, can lead not only to healing but also to scientific breakthroughs and spiritual epiphanies.
James Fadiman, Ph.D., did his undergraduate work at Harvard and his graduate work at Stanford, doing research with the Harvard Group, the West Coast Research Group in Menlo Park, and Ken Kesey. A former president of the Institute of Noetic Sciences and a professor of psychology, he teaches at the Institute of Transpersonal Psychology, which he helped found in 1975. An international conference presenter, workshop leader, management consultant, and author of several books and textbooks, he lives in Menlo Park, California, with his filmmaker wife, Dorothy.
Upcoming Event:
A lecture and book signing with Dr. Fadiman will be held September 30, 2011, 6 P.M. Pacific on the campus of the Institute of Transpersonal Psychology in Palo Alto, CA.
About The Institute of Transpersonal Psychology
For over three decades, the Institute of Transpersonal Psychology has developed its unique blend of training, research and community outreach.
Founded in 1975, ITP began as a groundbreaking center for integrative, whole-person learning and training. Today, the Institute is a leader in transpersonal research and education of clinicians, spiritual guides, wellness caregivers, and consultants. The Institute's stimulating and transformative educational paradigm, valuing the mind, body, spirit connection, attracts students from all over the world to both residential and distance-learning programs.
In addition to its graduate education programs, ITP operates the Community Center for Health & Wellness (CCHW), a professional counseling center and training facility offering quality services at an affordable sliding scale fee to the surrounding community. The CCHW combines contemporary psychotherapy with values that honor the mind, body, & spirit. The CCHW offers holistic programs for individual psychotherapy, couples and family therapy, spiritual guidance, health counseling, and the treatment of trauma.
Institute of Transpersonal Psychology Academic Programs:
Residential Programs (Offered on-campus in Palo Alto, California)
Psy.D. in Clinical Psychology
Ph.D. in Transpersonal Psychology
Master of Arts in Counseling Psychology (full-time daytime)
Master of Arts in Transpersonal Psychology (part-time evening)
Master of Arts in Counseling Psychology (part-time evening)
Global Online Programs (Study from any location in the world in an online environment)
Ph.D. in Psychology
Master of Transpersonal Psychology
Certificate in Transpersonal Studies
Low-Residency Programs (Hybrid online with minimum campus requirement)
Master of Arts in Counseling Psychology
Master of Arts in Spiritual Guidance
Master of Arts in Women's Spirituality
###