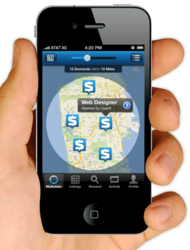 We want people to realize they can start, grow, and run their own business, all from the palm of their hand
San Francisco, CA (PRWEB) September 13, 2011
Today, moBubble, a proximity-based classifieds platform, officially launches to help people more efficiently buy, sell, and promote goods, services, and events to people around them in real-time. The platform lets users list what they have and demand what they want, all at the same time.
"People need a better way to interact with their local economy," says co-founder & CEO Stephen Boyd. "That's why we created moBubble, a platform that streamlines the connection process between two people who can mutually benefit one another."
MoBubble connects buyers to local merchants who are on the platform to promote their businesses. It's a great tool for freelancers, micro-businesses, and professionals who are looking to attract more clients. Users can simply list their professions, goods, events and services they want to promote. Wherever a user goes their "mobile bubble" travels with them, connecting them to new opportunities that have never been possible through web based applications.
The system uses a "persistent search engine" to keep users updated when new search results appear within their mobile bubble, and a built-in notification system lets users know when they receive new messages, payments, and reviews. Now, both buyers and sellers can now take a "set-it and forget-it" approach to local commerce by letting moBubble do the grunt work.
"We want people to realize they can now start, grow, and run their own business, all from the palm of their hand," says Boyd. "If a user is a personal trainer, for example, they can promote that listing, collect business leads, and handle their clients all from within the app."
The platform helps facilitate transactions from the initial connection on through the payment and review processes. MoBubble also has a built in reputation system that incentivizes merchants to use the app for payments, which is simultaneously intended to inspire buyer-confidence.
MoBubble is unique in that it allows users to search for things that are very broad, like open houses, garage sales and drink specials. Conversely, it's a great tool for individuals who are looking to promote micro events like the ones listed above to attract more interest.
The application is free to use and is currently available in the App Store for iOS users. A limited web version is also available on http://www.mobubble.com.
###