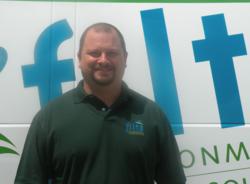 I am excited to be a Filta Franchisee and that I have the opportunity to offer a unique cooking oil sustainability solution to commercial kitchens
Hattiesburg, MS (PRWEB) September 23, 2011
Hattiesburg, Mississippi and the restaurants of the Mississippi Gulf Coast will soon be Frying Green as Filta Environmental Kitchen Solutions opens a new location in the Hub City of the South. Best known for the FiltaFry service, Filta is the world's leading cooking oil filtration and mobile fryer management service for commercial kitchens.
First time entrepreneur Curt Freeman is the franchise owner for the new location. Mr. Freeman, a former staff member for a restoration and cleaning franchise, knows the value of a strong brand and franchise support systems. "I am excited to be a Filta Franchisee and that I have the opportunity to offer a unique cooking oil sustainability solution to commercial kitchens." says Mr. Freeman. Mississippi cities will benefit from Filta's services starting with the major cities of Hattiesburg, Gulfport, and Biloxi.
Best known for its mobile based FiltaFry service, the company offers kitchens an eco-friendly onsite deep fryer management service. Using its advanced micro-filtration technology and vacuum based cleaning system, Filta is capable of prolonging the useful life of cooking oil, eliminating the risk to employees associated with fryer upkeep, and providing a superior level of food quality. As a result, businesses potentially purchase less cooking oil, save on insurance claims and employees come to work with the peace of mind that they are being provided a safe environment. Once the oil has come to the end of its useful life, Filta can then offer grease removal directly from fryer to van, usually without the need of a messy collection bin.
One of the truly unique services being introduced into this market is the FiltaCool service, which provides a cost effective and eco-friendly solution to businesses that need to control the moisture levels in their walk in coolers and refrigeration units. By using this service, clients are able to provide an ideal cold storage environment for their foods, and control the gases given off by produce, such as ethylene which significantly reduces the shelf life of produce. The FiltaCool service can extend the life of perishables by up to 50%, reduce cold storage operating expenses, and control moisture and odor.
For Hattiesburg area service inquires please call Curt Freeman at 601-265-4165 or email hattiesburg(at)filta(dot)net
About Filta Environmental Kitchen Solutions
Established in the United Kingdom in 1996 and brought to the USA in 2002, Filta is the world's leader in commercial fryer and cooking oil management services and offers its services through a worldwide franchise network. Filta is dedicated to saving its client's money, creating a safer working environment, and providing customers with the tools to increase the quality of their product, all while preserving the environment. Filta services over 5,000 customers every week and has recycled over 1/3 of a billion pounds of oil and counting! http://www.filta.com
###