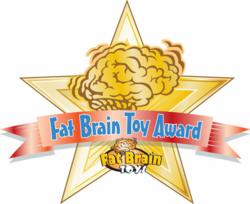 Consumers are not only casting a vote for their favorite toys, but casting a vote for better toys.
Elkhorn, NE (PRWEB) September 13, 2011
Having just returned from a social media "bootcamp" at Facebook headquarters in Palo Alto, California, Fat Brain Toys' President and Cofounder Mark Carson began looking for more creative ways to incorporate social media into his business. His solution? Leverage Facebook to build awareness for specialty toys in a fun, interactive format. Specifically, Carson Facebook-enabled his existing toy awards program to draw on the viral nature of social media.
The Fat Brain Toy Awards began in 2008 as a platform to recognize the very best products in the specialty toy and game category. Unlike other toy award programs, the general public is invited to cast votes for their favorite products to determine the winners of a Fat Brain Toy Award in 31 different categories.
For 2011, voters can either cast a vote online at FatBrainToys.com or "Like" a product through Fat Brain Toy's Facebook app which can be found at: http://www.facebook.com/fatbraintoys
"The incorporation of the 'Like' voting mechanism has really re-energized our awards program," says Carson. "The addition of the familiar Facebook Like button is yielding a marked increased in participation. Just 10 days into our voting and we've already collected 229% more votes over the same period last year."
Carson is quick to point out, however, that the Facebook integration is not simply a matter of jumping on the latest marketing bandwagon, but rather serving a legitimate business need.
"Our number one goal is to show American consumers that they have a choice when purchasing toys and games," explains Carson. "Through our new Facebook-enabled toy awards program, consumers are not only casting a vote for their favorite toys, but casting a vote for better toys."
156 toys and games, representing 127 manufacturers from across the globe were selected as finalists for their high customer ratings, notable sales growth, and/or especially innovative designs. Winners of the Fat Brain Toy Awards will be announced on Election Day, November 8, 2011. To cast your vote, visit http://www.FatBrainToys.com or http://www.facebook.com/fatbraintoys today.
About Fat Brain Toys
Begun as a literal garage startup in 2002, husband and wife team Mark & Karen Carson have grown their company into one of the largest independent retailers of toys in the country. Recent winner of the "Big Break for Small Business" sponsored by Facebook and American Express OPEN, Fat Brain Toys credits their rapid growth to offering quality toys coupled with truly remarkable customer service. Visit http://www.FatBrainToys.com for more information.
###