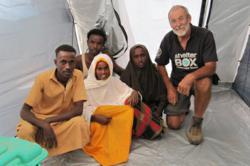 Thousands of Americans give in advance of disasters to ensure we have the capacity to provide shelter, warmth and dignity on a moment's notice to those who need it most.
Sarasota, FL (PRWEB) September 13, 2011
As millions of people in the Eastern Horn of Africa continue to suffer from the ongoing humanitarian crisis in the region, international disaster relief charity, ShelterBox has committed to provide more than $3.5 million in aid and distribution to help families in desperate need.
The drought affecting the Eastern Horn of Africa is the worst the region has seen in 60 years. Millions of families have been affected by massive water and food shortages, and the drought and on-going conflict in Somalia is causing families to flee their homes, with thousands arriving at refugee camps in Ethiopia and Kenya every day. The organization expects the need for emergency shelter to grow.
ShelterBox, which provides survivors of natural and other disasters with emergency shelter and life-saving equipment is working with Save the Children, UNHCR (United Nations High Commissioner for Refugees), the Refugee Central Committee and the Administration for Refugee and Returnee Affairs to prioritize aid for the most vulnerable survivors.
In Ethiopia, 1,600 ShelterBoxes are being distributed to the most vulnerable families, particularly those who are taking care of orphaned or unaccompanied children. ShelterBox has also provided over 4,500 tents for refugee families in Dadaab, Kenya and more are on the way. Each day, teams from a range of organizations go out to identify and mark suitable sites, erect tents and ensure that there are adequate water and sanitary facilities.
"ShelterBox USA is pleased to join other ShelterBox affiliates around the world in providing substantial support to families suffering in Africa," said Emily Sperling, ShelterBox USA president. "Thousands of Americans give in advance of disasters to ensure we have the capacity to provide shelter, warmth and dignity on a moment's notice to those who need it most."
The recent months have been busy for ShelterBox, with deployments to six countries involving dozens of ShelterBox Response Team (SRT) members. In the last few weeks, ShelterBox has deployed disaster assessment and response teams to six countries—Ethiopia, Kenya, Libya, the Philippines, South Korea and South Sudan. The teams have delivered aid to tens of thousands of people whose lives have been torn apart by drought, famine, tropical storms, flooding and conflict.
To support the work of ShelterBox around the world, individuals can make tax-deductible donations to ShelterBox USA at http://www.shelterboxusa.org, (941) 907-6036 or via text message by sending SHELTER to 20222 for a one-time $10 donation. Location and time specific donations cannot be accepted.
ABOUT SHELTERBOX USA
Since 2000, ShelterBox has provided shelter, warmth and dignity following 150 disasters in over 70 countries. ShelterBox instantly responds to earthquake, volcano, flood, hurricane, cyclone, tsunami or conflict by delivering boxes of aid. Each iconic green ShelterBox contains a disaster relief tent for an extended family, stove, blankets and water filtration system, among other tools for survival. ShelterBox's American affiliate, ShelterBox USA is nationally headquartered in Sarasota, Florida. For the latest updates, join the conversation on Facebook and Twitter.
###